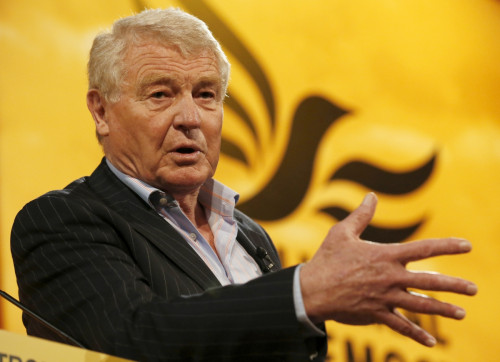 Liberal Democrat grandee Paddy Ashdown has been quizzed by police after being involved in a three car pile-up, in which one man died.
The former party leader and his wife were involved in the crash on a road near Crewkerne in Somerset earlier this month.
Lord Ashdown spoke to Avon and Somerset police investigating the fatal collision between a Ford Transit van, Vauxhall Corsa and the couple's Renault Scenic, in Turnpike Cross - a notorious accident black spot.
He spoke as a witness and police have made no arrests.
Ashdown's wife Jennie Courtenay was driving at the time with him in the passenger seat. Ashdown, 72, said the crash had left him "very shaken" and that it was a miracle they escaped serious injury.
The peer has been in contact with the dead man's bereaved wife since the crash on January 24. He was named as Mark Hurford, 49, and there are tributes paid to him online.
Lord Ashdown said: "We were about a mile outside Crewkerne and a car came around the corner. My wife was in the driver's seat and miraculously and thankfully she was unhurt.
"However, the young man was dead by the time I reached him. We are very shaken by it, but of course very concerned for the young man's family and wife.
"I have been in touch with his wife and we are devastated for them and send them our prayers and condolences."
An Avon and Somerset Police spokesman said: "We are investigating the collision and have spoken to all the parties involved. The collision is under investigation and that is all we can say at this time. No arrests have been made."