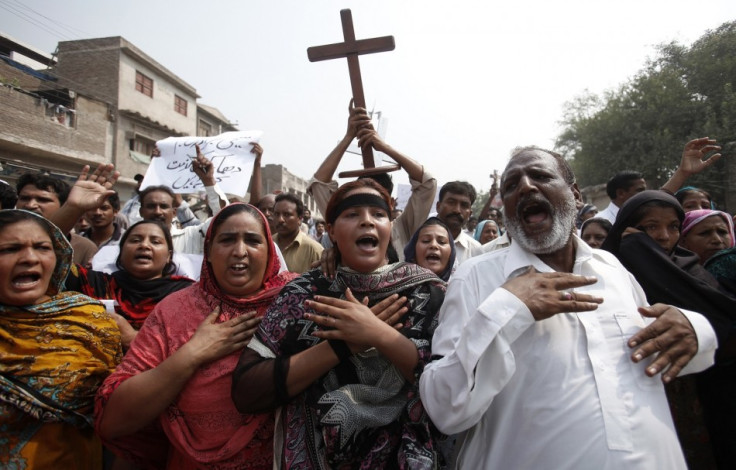 Angry Pakistani Christians have taken to the streets to protest against a double suicide bombing that killed at least 81 people at a church in Peshawar, demanding more protection from the government.
A pair of suicide bombers blew themselves up as hundreds of worshippers were leaving the historic All Saints Church in the northwestern city, after Sunday mass. More than 140 people were injured.
Demonstrations have been staged in Peshawar, Islamabad, Lahore and Karachi to protest what was the deadliest attack against Christians in Pakistan's history.
Protesters blocked one of the main roads to the capital, burning brush and tyres while urging the government to protect the Christian minority.
About 96% of the country's 180 million people are Muslim and Christians are often the target of attacks and discrimination.
Political and religious leaders condemned the bombing and the government announced three days of mourning.
Missionary schools around the country will also remain closed for three days, said Christian leader Nasir Gill.
In Peshawar hundreds of people attended the victim's emotional burials.
Two spinoff groups of the Pakistani Taliban - Jandullah and the Junood ul-Hifsa - have claimed responsibility for the massacre.
The groups have said they will keep targeting non-Muslims in retaliation of US drone attacks in the remote tribal region where the Taliban are waging a decade-long insurgency.
The Pakistani Taliban, however, condemned the bombing, but analysts say the group often distances itself from attacks which take a heavy civilian toll.
The government has been working to launch peace talks with the insurgents.
"What dialogue are we talking about? Peace with those who are killing innocent people," asked the head of the All Pakistan Minorities Alliance, Paul Bhatti.
"They don't want dialogue," Bhatti continued. "They don't want peace.
"Our state and our intelligence agencies are so weak that anybody can kill anyone anytime. It is a shame."
Meanwhile another bomb has exploded near a police patrol in Pashin district, in the southwestern Baluchistan province, killing four.