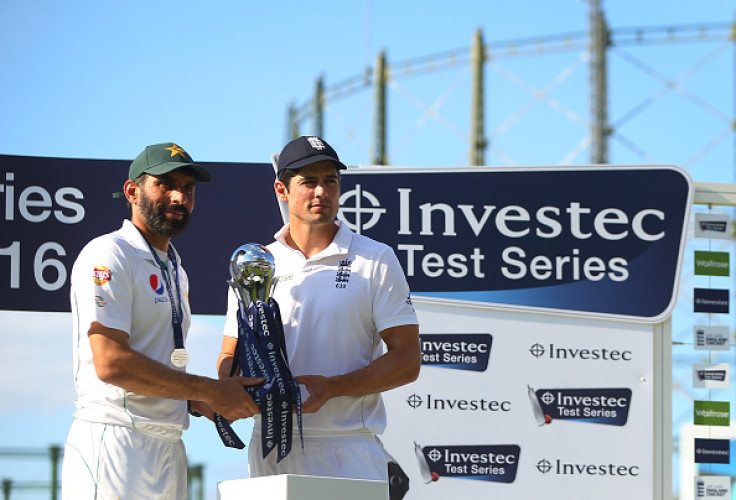 Pakistan's 10-wicket win over England in the fourth and final Test match at the Kennington Oval, has seen them become a contender to be ranked the number one Test team in the world, which if happens, skipper Misbah-ul-Haq says will be a sign of recognition of their success despite being unable to play any games at home.
The Men In Green who trailed 2-1 coming into the final Test match, put on an impressive performance to square the series 2-2. The win here means that if Sri Lanka beat Australia by a 2-0 margin or higher and West Indies fight back to draw the Port of Spain Test against India, then Pakistan would become the number one ranked Test side for the first time since the official rankings were introduced in 2003.
The 42-year-old, who has been a key figure in their resurgence especially in the longer format of the game, feels that it is a remarkable record considering they have not played at home since 2009.
"This team deserves that for six years of not playing any games at home. Sometimes people think it's really easy for us playing in the UAE. They think the wickets suit us and we win there. But just living every day away from your family and friends, and playing every game away from Pakistan is really difficult. It's mentally tough," Misbah said as quoted by ESPNCricinfo.
"I can see my mother once a year. I only see my sister once a year. We are out of the country all the time. There are a lot of tours and even our home series are in the UAE. We go from West Indies to New Zealand to Australia. It's not easy. But still the team is winning. Still the team is playing competitive cricket. I'm really proud of this team and I think that, if we can be number one after all these results, then we really deserve that," he added further.
With the four-match Test series coming to an end, the focus shifts to the limited overs format of the tour. Pakistan will play a total of seven one day internationals against Ireland and England and a solitary Twenty20 international against the latter. They will next be seen in action on 18 August, where they play Ireland in the first of a two-match ODI series.