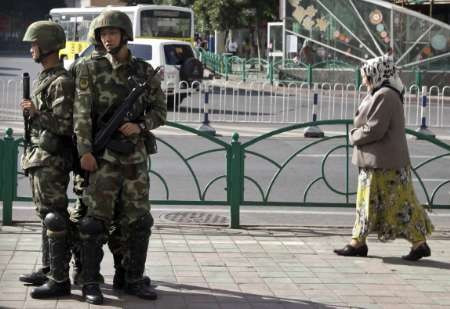 China blamed Muslim extremists for a deadly attack on Sunday in its north-western Xinjiang region, even saying that the militants had been trained in camps in Pakistan.
According to officials from the government in Kashgar, a city near the border with Pakistan and Kyrgyzstan, an "initial probe" had shown that the leaders of the group that carried out Sunday's attack, in which 11 people died, had received explosives and firearms training from Pakistan-based camps.
The camps, held by members of the East Turkestan Islamic Movement group, helped the men train and prepare for the attacks, officials claim.
Officials said they obtained the new information after a suspect from the attacks confessed and gave details about the months leading up to the attack.
A statement said that four suspects had been shot dead at the scene of the attacks on Sunday, while a fifth had died in the hospital from gunshot wounds.
On Monday, the government issued arrest warrants for two other suspects who, it said, had managed to escape the scene of Sunday's attack.
It identified them as 29-year-old Memtieli Tiliwaldi and 34-year-old Turson Hasan, and said both were members of Xinjiang's indigenous Uighur ethnic minority.
The police have offered a 100,000 yuan ($15,540), reward for information leading to their arrests.
Kashgar has recently seen a surge of violent attack, especially in Xinjiang, where Uighurs are known to regularly oppose and defy Communist Party rule as they ask for independence and accuse the government of corruption and ethnic repression.
Saturday, just a day before Sunday's attack, nine people were killed, and 27 injured in an attack in Xinjiang.
The relationship between the Chinese security forces and militants in Xinjiang had just reached a new low after two weeks ago the police shot dead 14 Uighur rioters in the city of Hotan, also in Xinjiang.
According to state media, violent protesters attacked and set fire to a police station, killing two police officers and two civilians.
A statement by government officials also said that on Sunday, assailants set off an explosion that triggered a fire in a restaurant, before randomly attacking civilians killed six people and , injuring 15 three police officers
Beijing regards Uighur separatists as part of a terrorist organization with links to al Qaeda, and has sought international support for its campaign against them.
Meanwhile, the East Turkestan Islamic Movement, or ETIM, accused of training Sunday's attackers is recognised as a terrorist group by both the U.S. government and Beijing, and accused of training its members for suicide bombings, car bombings, or spreading bomb-making information via the internet.
Following the attack, Zhang Chunxian, secretary of Xinjiang regional committee of the Communist Party of China (CPC), has ordered a crackdown on terrorist attacks, religious extremist forces, and illegal religious activities at an emergency meeting held in the regional capital Urumqi.
"People in Xinjiang should stay vigilant and recognise that terrorist attackers are the 'common enemies of all ethnic groups'," Zhang said.
The Pakistani Foreign Ministry has not commented yet, but the allegations that camps in Pakistan helped trained Chinese militants will only increase pressure on Pakistani authorities which the U.S. has accused of cosying-up to some of the Islamist fundamentalist organisations operating in the country.