Several Pakistani and Afghan soldiers were either killed or wounded when the two sides clashed on Sunday (12 June) night at the main border crossing at the end of the Khyber Pass. The clashes could further strain relations between the neighbouring countries.
The incident left at least one Afghan soldier dead and six injured, claimed an Afghan official, while the Pakistani army claimed that one of its soldiers was wounded in the attacks.
Ayub Hussainkhil, border police commander in eastern Afghanistan, was quoted by Reuters as saying that they have received reinforcements and "are ready to defend our country until the last drop of blood in our bodies".
The fighting at the Torkham Gate crossing in the mountainous region of northwestern Pakistan and eastern Afghanistan reportedly began at roughly 9pm local time and continued through the night. An Afghan official said the fighting stopped in the early hours of Monday. Both the forces are blaming each other for the clashes.
The Afghan government's chief executive, Abdullah Abdullah, posted on Twitter that they hope to end the ongoing clashes through peace talks. He said: "We currently have agreed on a ceasefire with #Pakistan. We hope this problem will end through the work by diplomatic addresses. The current fight Pakistan started doesn't help anyone's interest."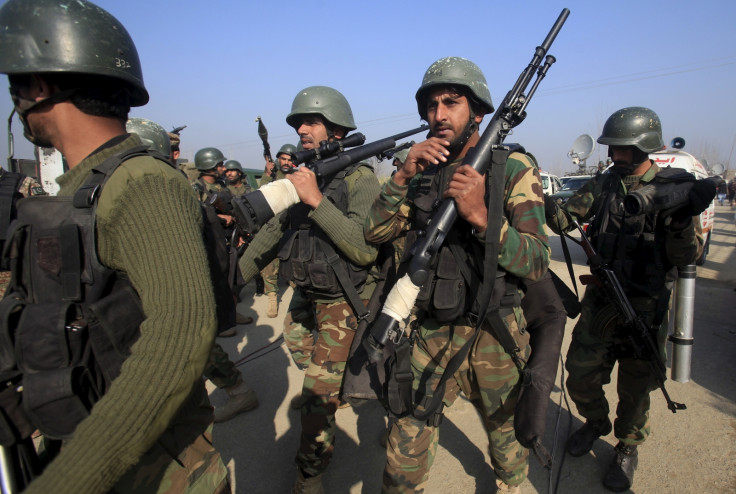 The Pakistan army said in a statement that its forces attacked in self-defence. "Pakistani security forces responded to Afghan firing effectively," it said.
Afghanistan has accused its neighbour of harbouring militants who, it claims, want to topple the current Afghan government. Denying the allegations, Pakistan said it was constructing a border gate near the border town of Torkham to prevent militants crossing from Afghanistan into Pakistan.
"In order to check movement of terrorists through Torkham, Pakistan is constructing a gate on its own side of the border as a necessity to check unwanted and illegal movement," the Pakistani army said. Afghanistan is reported to have blocked earlier such attempts by Pakistan over border disputes.