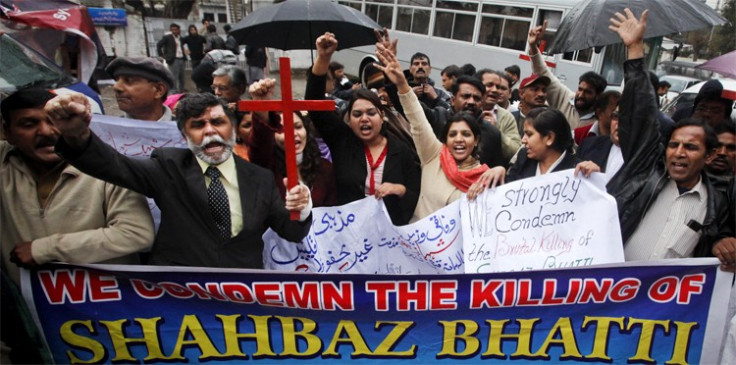 Xavier William, president of the humanitarian rights group Life for All, has been working as an activist in Pakistan since 2004. He says he and his colleagues regularly receive threats for their work, but that that "they don't stop us."
"If we don't speak up, somebody has to," he says.
Life for All has this week published a report documenting the cases of 93 individuals currently being held in the state of Punjab under the nation's notorious blasphemy laws. The organisation is currently in the process of compiling a similar report for the other regions of Pakistan, where William estimates between 200 and 300 people are being held, usually on false charges.
Pakistan's blasphemy laws have made headlines in recent months for the assassination of two high-profile politicians, allegedly for their involvement in trying to combat the laws. Punjab governor Salman Taseer was assassinated on Jan. 4, 2011, reportedly for his campaigning for the release of Asia Bibi, a Christian woman sentenced to death for insulting the prophet Muhammed.
The country's only Christian minister, Shahbaz Bhatti, was shot dead on Mar. 2, 2011, only a week after he had said he was prepared to die for his beliefs. Bhatti had been campaigning to reform the blasphemy laws.
William, who interviewed Asia Bibi for the report, says he expects a backlash from religious authorities.
"We do expect a backlash, but we need to tell the world that these people are there, that they need help, and we need to speak up for them."
"Most of them have been falsely accused and are being mistreated and the ones who have been there [in prison] for a long time have become ill. They are mentally ill because they are in solitary confinement," he added.
As well as providing legal aid and campaigning for the release of those wrongly-accused under the blasphemy laws, Life for All also runs educational campaigns to inform the Pakistani public about what it calls the "misuse" of the blasphemy laws.
"[The law] is being used to settle personal vendettas," says William, who cites at least 34 cases of extra-judicial killings as a result of the law since 1986 - 15 of whom were Muslim.
"[Life for All] believes in humanity rather than one religion - we have all the religions working together trying to bridge the gap between the communities," he affirmed.