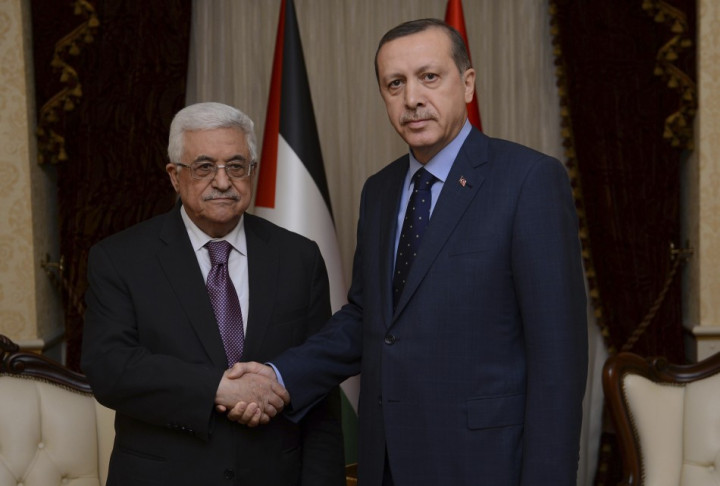 Palestinian president Mahmoud Abbas has condemned Hamas leader Khaled Mashaal's claim that the Islamic militant group will never recognise the state of Israel.
Amid ongoing efforts to unify the two sides of Palestine, the Fatah leader openly expressed disagreement over Hamas's tough line on the Jewish state.
"I don't agree with Khaled Mashaal's statement on the non-recognition of Israel because we, in fact, recognised it in 1993," Abbas told reporters in Turkey's capital of Ankara.
"A four-article agreement between [Fatah and Hamas] stipulates a two-state vision. And Mashaal approved of this agreement."
Speaking at the militant group's 25th anniversary in Gaza, Mashaal, in his first visit to the Palestinian territory after 45 years in exile, called for armed struggle and jihad against opponents.
He pledged to "free the land of Palestine inch by inch" and added that "we will never recognize the legitimacy of the Israeli occupation and therefore there is no legitimacy for Israel, no matter how long it will take."
Israeli politician Tzipi Livni welcomed Abbas' remarks, saying that "it is important the public will hear messages like this, and not lose hope in the agreement".
During his trip to Turkey, Abbas criticised the Israeli government's decision to build 3,000 new settlements in Jerusalem and West Bank, in an area known as the E1 (between Jerusalem and the settlement of Ma'aleh Adumim).
He maintained that the Palestinian Authority may file charges against Israel with the UN's International Criminal Court (ICC).
"We are not very inclined to resort to this path, but if Israel insists on its unacceptable plan, then we will use other methods," Abbas said during a joint press conference with Turkish President Abdullah Gul in Ankara.
"If Israel continues in this way, we will respond with all means - of course peaceful ones - including the possibility of going to this court."