Parents are being warned to keep their e-cigarettes away from children following an incident where a toddler was rushed to hospital after swallowing nicotine in a refill.
The two-year-old girl from Birmingham was taken to A&E at Good Hope Hospital when she vomited after putting one of her mother's refills in her mouth.
The girl recovered but high volumes of nicotine can be fatal.
Dr Sanjay Gupta, who treated the child, urged parents to be more vigilant.
"The risk posed by nicotine liquid to children needs to be recognised, acknowledged and acted upon by all. This includes public education and legislation to improve the safety profile of e-liquid containers," he said.
A nicotine dose of 1mg per kg of the child's weight can put their life at risk - although some refills contain as much as 36mg/l, according to a study in the Archives of Disease in Childhood.
Latest research from the Centers for Disease Control and Prevention found around seven children a day are now risking death by swallowing the nicotine liquid from e-cigarette containers.
Symptoms of poisoning include burning in mouth and throat, nausea, confusion, dizziness and weakness.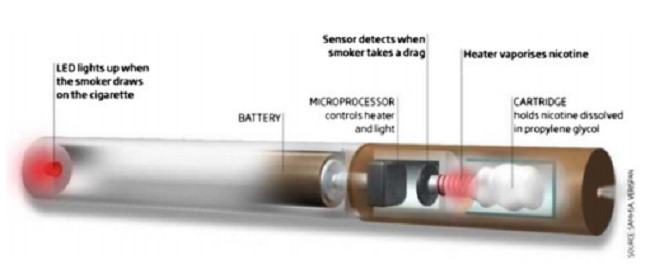 In September 2010, there was an average of one emergency call per month resulting from youngsters ingesting the cartridges. But by February this year that figure has risen to 215. More than half the cases involved children under five years old.
Dr John Thompson, director of the Public Health England commissioned National Poisons Information Service Unit in Cardiff, said: "While any cases of poisoning are of concern, our previous research showed that fortunately fewer than one in 10 of patients developed symptoms of toxicity which lasted more than four hours and only two patients had long lasting symptoms.
"E-cigarette usage has increased significantly in recent years. The liquid found in e-cigarettes can be very harmful and I would urge anyone who uses e-cigarettes to make sure that the liquids are stored safely, and in particular away from children."