Paris attacks: How hotels, restaurants and travel in France have been affected
I was chatting to my French friend Barbara, who is the proprietor of a small children's shoe shop in a fancy suburb to the west of Paris, at dinner on Saturday night. As ever, I asked Barbara how her young business was doing, and was somewhat taken aback by her response.
"Up until recently, shoe sales have been relatively steady, helped by the back to school season in September. But over the last week or so, footfall has dropped off a cliff," she said.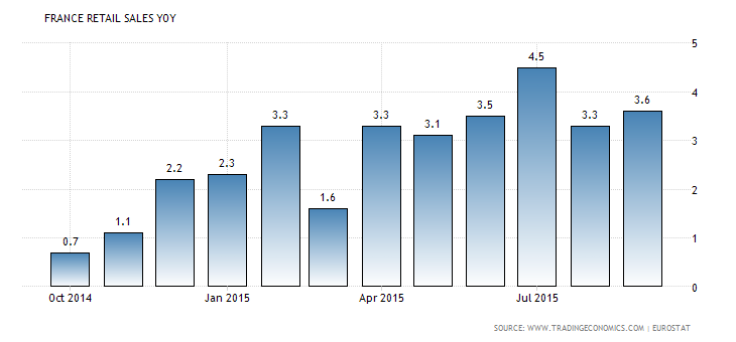 1. French Retail Sales Healthy Up To September
Tradingeconomics.com
It would seem that the French populace has gone into a collective state of shock following Friday the 13<sup>th's deadly attacks in Paris. The taxi driver I use regularly, Olivier, tells me that the level of traffic jams in and around Paris has surged over the past week as Parisians shun public transport, preferring to drive their own cars to work in spite of the far longer journey times.
As we collectively mourn the victims of these terrorist attacks, no one is really in the mood to go shopping other than for essentials, and certainly not to wander around town browsing for potential Christmas presents.
Tough times for French retail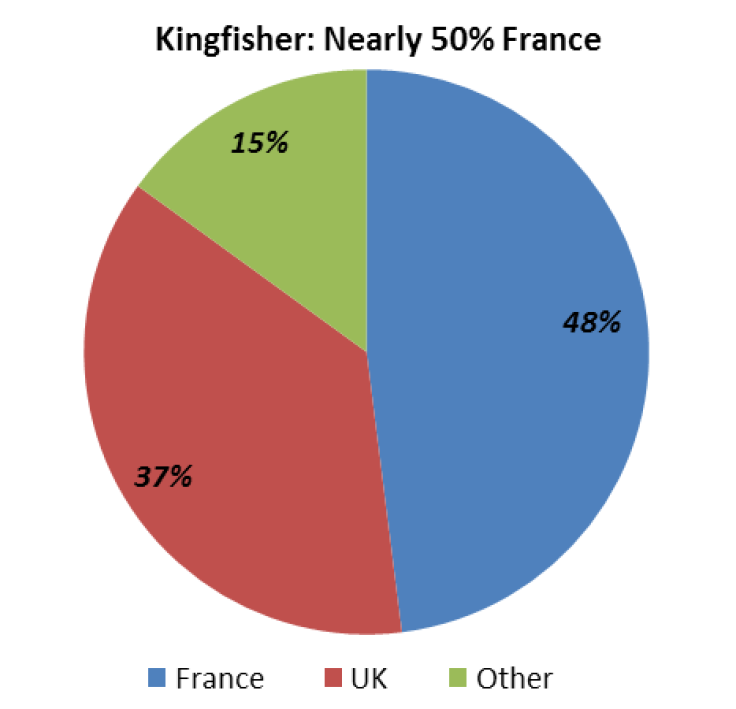 2. Kingfisher: Heavy French retail exposure
Kingfisher
November has seen a sharp about-turn in the fortunes of French retailers – sales were relatively healthy up to the last official reported figures in September, growing at an annual rate not far off 4% (Chart 1).
But perhaps inevitably, the French retail sector is now suffering. According to the French President of the Clothes Retailers' Association, town centre clothing stores have seen a 20-30% decline in footfall (people going into shops) since November 13.
The "grands magasins" in the centre of Paris, the famous department stores on the Boulevard Haussmann, have also suffered from the lack both of local footfall and tourist visits – down 30% for Printemps and down an even more dramatic 50% for Galeries Lafayette over the past week.
Does not bode well for either Darty or Kingfisher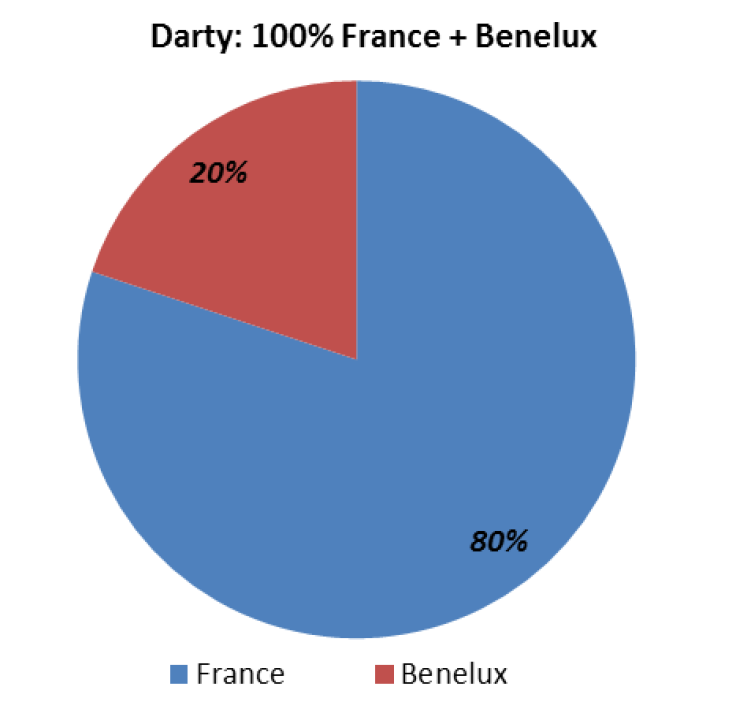 3. Darty is exposed as well
Companies
There are two retailers listed on the London Stock Exchange that are at risk from this slump in French footfall: Darty and Kingfisher.
Kingfisher is the owner of the B&Q DIY store chain, but actually has a near-50% sales exposure to France via its Castorama and Brico Depot DIY stores (Chart 2).
Darty has an even greater exposure to France via its eponymous electrical stores at 80%, following its sale of its loss-making UK Comet electrical stores (Chart 3).
Both of these companies could suffer profit shortfalls on the back of this more cautious consumer trend, should it last more than a week.
Hotels, restaurants & travel: all heavily impacted
French hotels, restaurants and airlines have spent the past week submerged under a huge wave of cancellations, according to the president of the National Union of hoteliers, restaurateurs and café owners. Cafés bars and restaurants have seen a 38% drop in sales for the week of November 13-19, compared with the week before, while hotels have suffered even more with a 51% weekly sales drop.
This is extremely bad news for quoted hotel companies such as Accor, alongside airline companies such as Air France-KLM, the French flag-carrier.
Cocooning champions
The flip side to this is that people are much more likely to spend more time (and money) at home over this festive season, a phenomenon called "cocooning".
What are we likely to spend more money on? Food and drink, online entertainment and online retailers are three areas where companies should benefit.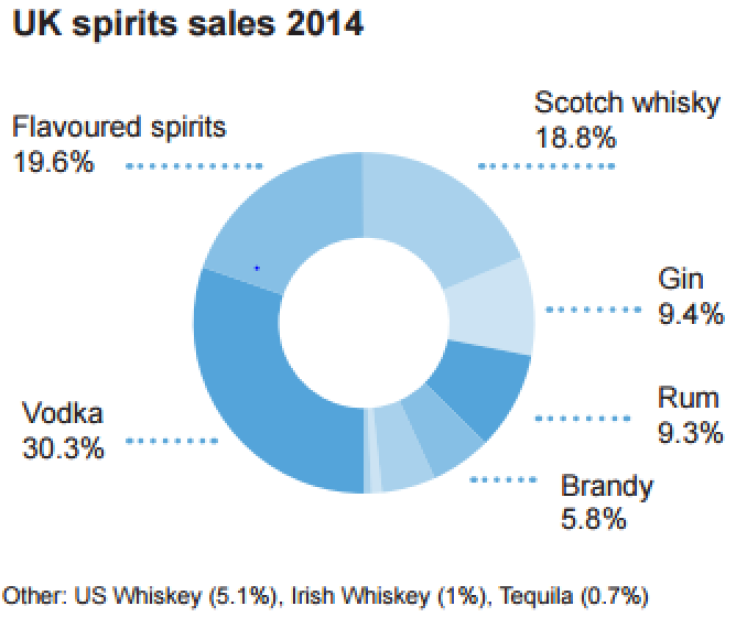 4. UK spirits drinkers prefer vodka and whisky
Wine & Spirits Trade Association
Diageo (UK code: DGE) – the maker of Johnny Walker whisky, Smirnoff vodka and Bailey's Irish Cream – is a prime beneficiary of the festive season, as UK alcohol consumption rises by 40% in December according to the addaction website.
Other European spirit and champagne makers that should see a strong seasonal sales boost include the French drinks companies Pernod Ricard and Remy Cointreau.
Home entertainment is another category that is boosted by the cocooning trend: pay-TV providers Sky (UK code: SKY) and BT Group (UK code: BT.A) should also do well out of growth in video on demand and broadband internet.
Finally we should of course not ignore online retail: my favoured plays in this sector over Christmas include Dixons Carphone (UK code: DC.), Sports Direct(SPD) and even Laura Ashley (ALY), who today generate 18% of their total UK sales via its various language websites.
---
Edmund Shing is Global Head of Equity Derivative Strategy at BNP Paribas in London. He holds a PhD in Artificial Intelligence.
---
© Copyright IBTimes 2023. All rights reserved.