Black Friday is creeping up on us fast, but what is "Black Friday?" I hear you say. It is a US shopping import – effectively a shopping feeding frenzy at both online and physical retail stores that traditionally takes place in around Thanksgiving, at the end of November.
Black Friday this year falls on Friday 27 November, so it is less than two weeks away. Shoppers can hope for dramatic discounts on a wide range of items, notably of course consumer electronics such as laptops, high definition TVs, and computer games. UK online shoppers are expected to spend over £1bn ($1.52bn) over the 24-hour period encompassing Black Friday this month - more than ever before.
Amazon.co.uk has promised to offer more than 7,000 Black Friday deals for a week from 23-29 November - an excellent opportunity to reduce your no-doubt heavy Christmas shopping bill and get that present list ticked off well before 25 December.
Tip 1 - Identify what presents you want to buy (and whom for)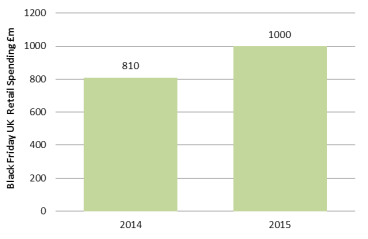 The first and probably most important piece of advice I can give you, the aspiring Black Friday bargain hunter, is to write out a list of the presents that you are hoping to buy for your nearest and dearest (or even to treat yourself), and the best prices that you can find online for them right now.
That way, as the Black Friday online offers come at you thick and fast, you can quickly assess exactly how much of a discount you are getting versus pre-Black Friday prices, and then click that Buy button (or not) before the offer lapses.
This list discipline has the added benefit of reducing the risk that you fall into the nefarious trap of making impulse buys, snapping up "special offers" that you later regret.
Tip 2 - Make sure that items are easy to return, either to a physical store or via post (just in case)
We all make mistakes or change our minds when buying, whether online or on the High Street. So the second piece of advice I would have is to make sure when buying online that you know the website's returns policy. Is it by post, in which case do you pay the postage, or else can you return the item to a physical store?
Tip 3 - For items over £100, pay by credit card, or else Paypal
If buying a single item worth over £100, make sure you pay by credit card. That way, you benefit from free payment protection insurance in case of problems (under Section 75 of the Consumer Credit Act). See here for an in-depth explanation of how this free payment insurance works.
For cheaper items, I would use Paypal to pay wherever possible, as they also offer Buyer Protection if an item doesn't arrive, or doesn't match its online description. So what are the top categories to look out for this Black Friday?
Buying Electronics (computers, tablets, smartphones, TVs)
Hot Black Friday electronics items are sure to be laptops, tablets, smartphones and high definition TVs.
Laptops are sure to be heavily promoted this Black Friday – according to IT supply chain analyst Context, 77,000 laptops were imported into the UK over the final week of October in preparation for the end-November rush, far higher than in previous years. £200 seems to be the new entry price point for Windows-equipped laptop computers.
For instance, Laptops Direct are offering a Lenovo B50-30 15.6 inch Windows laptop with an Intel Celeron processor, 4Gb of memory and 500Gb of storage space, all for £190. This is a great price for an entry level first laptop for a child or student.
If you are in the market for a new flat screen TV, you could do a lot worse than look at currys.co.uk; they are offering the JVC LT-40C750 40-inch full HD smart LED TV for only £249, a £150 on the full list price.
Desperate for the latest Apple iPhone 6? Mobiles.co.uk are offering an Apple iPhone 6 16Gb in gold free with a £31/month O2 contract (24 months), giving you unlimited minutes, unlimited texts and 3Gb of data.
Looking for headphones? Richersounds.com has an excellent range of good-quality headphones and earphones at rock-bottom prices, including the Audio Technika ATHFC707 folding headphones at only £19.95.
Video Games
For those looking for a Microsoft Xbox One this Christmas, techradar.com have squeezed a great deal out of UK online retailer Zavvi: using the code TRDXBOX at the checkout, you can buy an Xbox One 500GB with a copy of FIFA 16 for £269.99 - saving £50 on the normal bundle price of £319.99.
Domestic Appliances
Looking for one of the hottest Black Friday items last year – the Nutribullet smoothie maker? Robert Dyas offer the best online price at £74.99 for the Nutribullet 600 Series. Alternatively, if you want to spend a bit less on an equivalent smoothie maker, Dyas also offer the powerful Salter Nutri Pro 1000 at only £39.99 online.
These are just a few of the best online deals around in the lead up to Black Friday; but keep a sharp look-out, as there is sure to be an avalanche of enticing online deals in the next couple of weeks.
---
Edmund Shing is Global Head of Equity Derivative Strategy at BNP Paribas in London. He holds a PhD in Artificial Intelligence.
---