British Airways has been forced to cancel almost all flights heading out of the United Kingdom sector. British Airline Pilots' Association (BALPA) called the two-day strike to force the airline to increase salaries and perks. As a result of the strike all flights to and from the UK are selling their tickets at astronomically high rates.
Due to the grounding of over 1,500 British Airways flights, travellers are forced to book with other airlines. Budget flights heading out of the UK to most other destinations sold out by Monday. The high airfares are not limited to the two days on which the pilots are on strike. A massive passenger backlog has resulted in increased airfares all throughout the week.
CNN gathered the prices of flights for various routes. A round trip to Cairo from London cost £2,502 ($3,086) during the strike. The average airfare is £403($497) for a round trip to and from the Egyptian capital.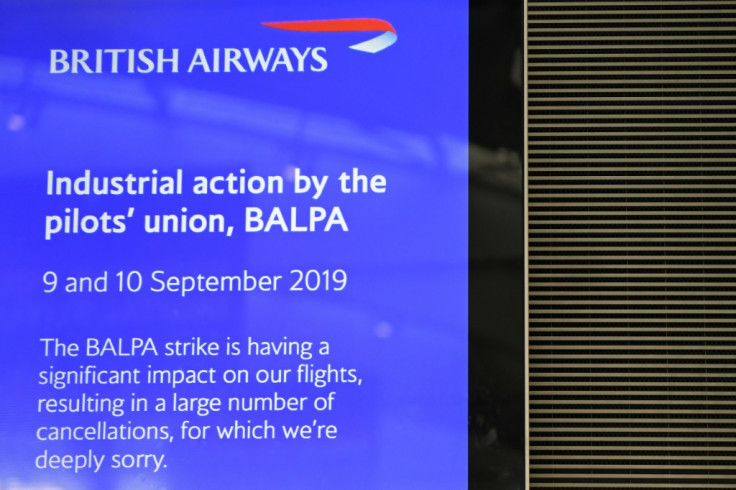 Flights to Nice on Monday and back on Wednesday cost £1,272 ($1,573). The cheapest return flight from Nice on Wednesday is £448.50 ($555) while British Airways is charging £694 ($858) for a Nice-London flight. The same flight from Nice to London's Heathrow costs £58($71) throughout the rest of the month.
An economy flight to Japan goes for £568 ($700) on average. With all economy tickets sold out, passengers were forced to pay £2,704 ($3,341) for premium economy on Monday. British Airways had a sale for business and first-class flights to Miami. £1,009 ($1,243) and £1,500 ($1,848) allowed passengers to fly business and first-class respectively from London to Miami. However, return flights from Miami this week cost anywhere between £1,980 ($2,446) and £2,613 ($3,228) for economy seats.
Domestic flights are afflicted as well. To fly from Denver-London and back on the same day, passengers have to pay £4,378 ($5,413). The hiked fare is 1347% more than the usual fare of £325 ($402) for the same round-trip journey.
There are some destinations which have not seen a major hike in airfare. Hong Kong is one such destination. Due to the unrest in the city, the route is not in high demand.
Strikes from the BALPA has cost both British Airways as well as UK passengers a lot of money.