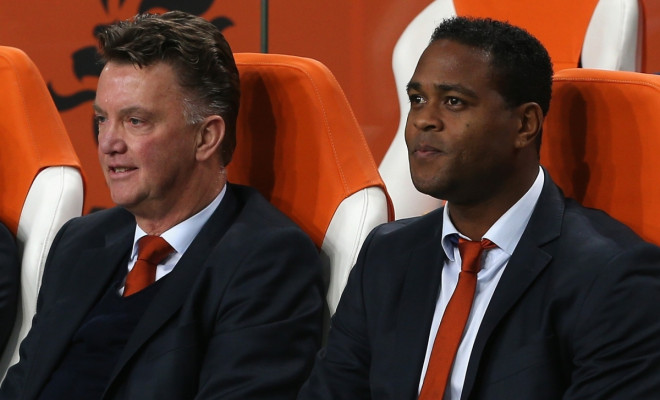 Netherlands assistant coach Patrick Kluivert wants to follow Louis van Gaal to Manchester United should the 62 year old be this week confirmed as David Moyes' permanent replacement at Old Trafford.
Van Gaal is expected to be confirmed as the new United boss before officially beginning preparations for the 2014 World Cup on 7 May with the Netherlands.
Debate has raged over who might make up Van Gaal's backroom team, with former captain Roy Keane and current interim boss Ryan Giggs mentioned as among the candidates but Kluivert's intent to move to United makes the ex-Dutch striker the leading contender.
On Van Gaal's prospective appointment at United, the 38 year old said: "I think he didn't sign yet so I can't say nothing about it... [but] I think he can let big teams play even better and win important prizes.
"I think he's got a lot of qualities but the most important thing he can make any team play better than they are. That's very important. He wins games.
"Louis is a great trainer. He proves with different types of teams that he can manage to be champion. He is sophisticated, absolutely. It's a pleasure to work with him.
"I have an absolutely warm relationship with him, but if you know the trainer and the man, he is very straight to everybody. I think that's very important if you play high-level soccer that you are very straight with people.
"Some people say he is like a general, some say he is a nice man, and every human being is not the same, you know. I work with a lot of pleasure with him, I still work with him absolutely. I can only have positive words for Van Gaal."
Giggs lost his second game in charge of United to Sunderland on Saturday having beaten Norwich City in his opening match and with his playing career set to come to an end at the end of the campaign, the Welshman fears he may have to leave the club altogether.
"I have got to decide if I want to play or not so there is no point thinking if I want to be an assistant or if I want to be a manager somewhere else," the United legend said.
"There are so many things to think about, but that's in the future. I honestly don't know (what I will do)."