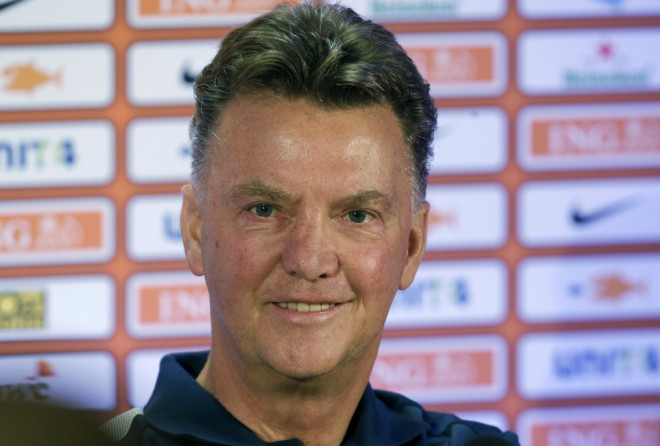 Former Newcastle United striker Patrick Kluivert has hinted that Louis Van Gaal would be the first pick for the Manchester United job after the summer World Cup.
The Red Devils allowed David Moyes to leave the club after enduring a poor form in all competitions. United legend Ryan Giggs was appointed as the interim manager for the remaining fixtures of this season.
The Netherlands coach has been strongly linked to take the managerial reign at Old Trafford. The former Barcelona and Bayern Munich manager has confirmed he will step down from his post after the end of his national side's campaign in the World Cup.
"He would be absolutely the first pick of any club, especially top teams everywhere in the world. He likes to let young players make their debut if ready for it," Kluivert told talkSPORT.
"The most important thing at the moment is I'm personally enjoying working with him and with the Dutch national team. We're going to the World Cup and hope to do well. After that we'll see what happens and with me as well."
The Daily Mail reported the Dutch manager will pick Kluivert as his assistant, if he gets the United job. The former Barcelona striker's future beyond the World Cup in Brazil remains uncertain, as he is currently Van Gaal's assistant with the Netherlands national team.
Kluivert revealed that he would have no hesitation in following Van Gaal to his next destination – if the latter wants to join him.
"Sure I would [do the job] wherever in the world because I love working with him. It doesn't matter what club it will be if he asks me to join him, I would be absolutely honoured to be on his side," the former Premier League striker said.
Another report from the Daily Mail suggests that Van Gaal will also keep Giggs at the club, alongside Kluivert as his assistant manager – provided he becomes the next United manager.
Meanwhile, Giggs won his first game in charge as United manager as the Red Devils registered a comfortable 4-0 victory over Norwich City at Old Trafford on Saturday.