Paul Walsh believes his former team Tottenham will have to raise their game significantly if they are to get anything from their weekend trip to the Emirates to face fierce rivals Arsenal.
Spurs suffered a second successive defeat in the Champions League on 2 November as Kevin Kampl's goal condemned the north London club to a 1-0 defeat against Bayer Leverkusen at Wembley.
The loss extended Tottenham's winless run to six matches in all competitions and leaves them facing an uphill battle to reach the knockout stages of Europe's premier club competition.
Walsh described his former club's performance at Wembley as a "debacle" and warned that the weekend trip to Arsenal could be a painful experience for Spurs fans.
"It's definitely the worst performance of the season – the worst I can remember in a long time," he told Sky Sports.
"I liked the look of the team on paper but in an important game, no one turned up.
"It's hard to know why, unless over the last few games the confidence has waned a bit and suddenly it's just caught up with them.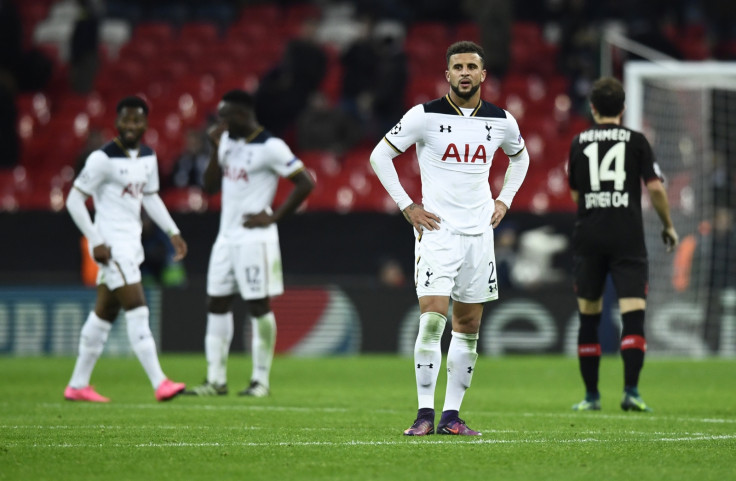 "I was expecting Tottenham to win, moving the ball quickly and with confidence, but where's their confidence gone?
"It's a big game at the weekend. If you're an Arsenal fan watching that you'll be rubbing your hands together," Walsh added.
"The fact it is a derby gives you the chance to roll your sleeves up and raise your game. It's a leveller but Tottenham will have to raise their level if they're going to get anywhere near Arsenal."
In the absence of the injured Harry Kane, Tottenham have only scored three goals in their last six games in all competitions.
The England international returned to training this week and could play against Arsenal, but Walsh cautioned that Spurs' troubles extended deeper than the absence of one player through injury.
"It's not about one player, it's about a team. Harry Kane wasn't particularly at top of his game when he got injured and suddenly we're asking if he's the saviour. It's collective. I'd say [Toby] Alderweireld being missing – a leader at the back – is more important," he said.