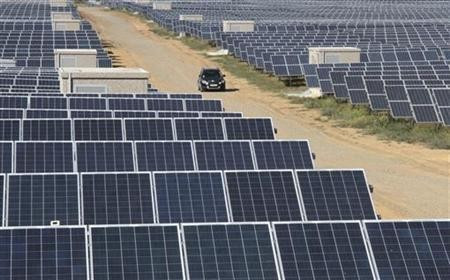 A new pay-as-you-go mobile phone charging system could make solar power a more affordable option for customers in the developing world.
The service, called IndiGo, comprises a "low-cost flexible plastic Movie Camera 2.5W solar panel" that powers a battery, New Scientist reports. Connected to a USB mobile phone charger, the system can provide an LED lamp with around 5 hours of light from one day's charge.
Cambridge-based company Eight19 developed the system, which is currently being trialled in Kenya, with plans for a commercial roll-out in early 2012.
"We are very encouraged by this new way of delivering energy to off-grid applications in emerging markets," said Eight19 CEO Simon Bransfield-Garth.
"Indigo enables a new generation of solar power products that are affordable, providing customers with access, often for the first time, to clean low coat energy that eliminates the health risks and carbon emissions of kerosene."
The IndiGo unit must be leased for an initial $10 fee, although thereafter it costs $1 a week to run. Users buy credit using a scratch card that is authenticated by a text message sent to the phone.
Eight19 estimates that 1.68 billion people worldwide lack access to an electric grid and pay high prices for kerosene, both financially and with their health.
However, the company also noted that the initial costs of solar lamps and chargers are often beyond the reach of many of these potential customers.