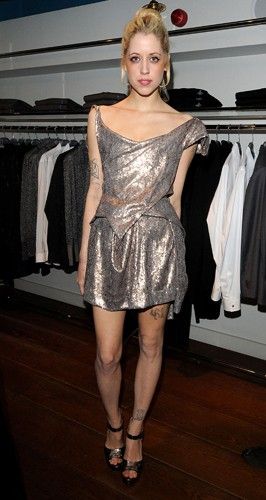 Peaches Geldof has reportedly been caught shop lifting around £60 worth of make-up from high-street chain Boots.
The daughter of Sir Bob Geldof is said to have been spotted by plain clothed store detectives pocketing mascara, foundation and eyeliner at a branch in Regent Street, Central London.
Peaches, 22, has been accused of shoplifting four times in the past. She was taken into a back room by staff and forced to hand over all the cosmetics. She was then let got without the police been called.
"Yes, Peaches Geldof was caught by an undercover detective with around £60 worth of make-up," a staff member at Boots has said.
"She stuffed it in her handbag and also a small yellow Selfridges bag she was carrying. She was calm when she was caught and wasn't arrested as she handed the stash over. We filled in a recovery note and she has been banned from the store."
"We certainly get reports of smaller value thefts which are prosecuted. Shop­lifters will generally carry on doing it until they are caught and hauled over the coals," said a spokesperson from Scotland Yard.
Peaches has been involved with other situation such as this before, including an incident in March 2008 when she was accused of pinching a £500 dress from Victim in Carnaby Street.
There was also an incident at a photoshoot for iD magazine in 2007, in which Peaches was accused of taking home a stash of designer clothes, but the magazine later said the "issue had been resolved."