The former leader of the English Defence League (EDL) has said he will launch a new anti-Islamist movement in the UK with a rally in Birmingham, branding the city the "terrorist epicentre" of Britain. Tommy Robinson, who made headlines when he left the EDL in 2013, has returned to the political scene by setting up a UK branch of right-wing group Pegida.
Robinson – real name Stephen Yaxley-Lennon – told IBTimesUK the group will take to the streets of Birmingham on 6 February in a rally that will join other right-wing protests across Europe in an aim to "preserve our culture, save out country and save our future". The decision to march in a city that has one of the largest Muslim communities in the UK is likely to attract controversy. Pegida's mission statement is to halt what it says is the "Islamisation of the West".
Robinson told IBTimesUK: "Birmingham is where most of the terrorists have been from, it's where six Muslims who wanted to blow us up were from – the continued epicentre for terrorism is Birmingham."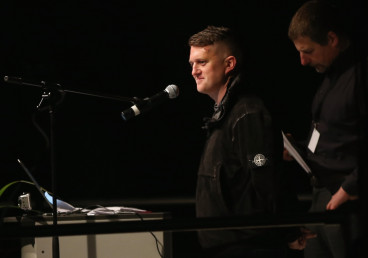 Robinson said Muslims were welcome to join the group on the February march, but added: "The reality is they won't." He continued: "We don't want to march through a Muslim community, we don't want to march near a Muslim community. We are not coming for confrontation.
"We don't want to march in the centre of Birmingham but to offer the police the opportunity to tell us where best to march [and where] they think it will cause least disruption and minimal tension."
In Robinson's new guise as "manager" of Pegida UK, he has called on the government to ban all Muslim immigration to the UK for five years and to impose a five-year ban on the construction of any mosque in the UK.
He also wants an end to any foreign, or "Saudi", money supporting UK mosques and called for any Muslim convicted of terrorism offences to be held in solitary confinement. This was, he said, to prevent "vulnerable" inmates of being radicalised. It follows his own imprisonment for mortgage fraud in 2014 when he was attacked by what were reported to be Muslim inmates at Woodhill prison in Milton Keynes.
Robinson's new role comes two years after he appeared to renounce his far-right views, announcing through anti-extremism group the Quilliam Foundation he would be leaving the EDL. At the time, he said he wanted to distance himself from "far-right extremism" and the group's "mixing of alcohol and aggression".
He says he has since become influenced by Pegida rallies taking place across Europe, including in the German city of Dresden where he spoke to a crowd of 40,000. He claims the group has avoided violence often associated with far-right groups and is now "mainstream". But critics, including German Chancellor Angela Merkel, described the group as having "prejudice, coldness, even hatred in their hearts".
Robinson said he had no plans to be leader of Pegida UK, who is currently former British soldier Tim Scott, but said: "Since the two years I left the EDL we've seen the development of Isis, the trojan school plot in Birmingham, the Rotherham scandal, the attacks in Paris – the list goes on and on. Where do we stop it? For anyone who says this demonstration will add fuel to the fire – you don't need much fuel, just look around you."
Robinson says he has been on a "search for answers" since the Quilliam Foundation triumphantly announced he was to step down as leader of the EDL. In claims made in his upcoming autobiography, Robinson says he was paid £2,000-a-month by Quilliam to leave the group so they could take "credit" for his resignation.
A spokesman for the Quilliam Foundation said: "Quilliam never claimed to 'deradicalise' Tommy, nor 'reform' him, only that we facilitated his departure from the EDL. Quilliam cannot comment on Tommy's intentions (or 'staging') for leaving the EDL, as it cannot read his mind. We simply helped him leave the EDL, rendering that group leaderless since.
"Tommy has never been a Quilliam member of staff, nor on our payroll, nor did he join Quilliam. Tommy was remunerated, as an external actor, after invoicing us for costs associated with outreach that he & Dr Usama Hassan did to Muslim communities after Tommy's departure from the EDL, in an attempt to reconcile Tommy with our Muslim communities."