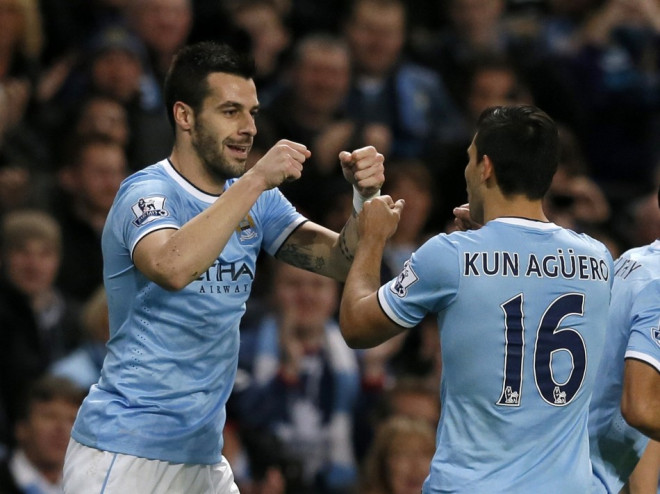 Manuel Pellegrini has put his faith in Manchester City strikers Alvaro Negredo and Sergio Aguero expecting them to hit the goal trail once again this campaign.
The Spaniard's niggling shoulder injury has had an impact on his performances and the 28-year-old has failed to register a single goal in February while the Argentinean international spent the month out of action with a hamstring injury.
The duo have been vital in the Citizens' quest for winning trophies this campaign and together have netted 49 goals in all competitions in the current campaign.
The City manager backs his stellar front-men to shine in front of goal till the end of the season as he aspires to bring more trophies to the Etihad. The Chilean's side can secure another trip to Wembley this season in the FA Cup semi-final by beating Wigan Athletic on Sunday, having already lifted the Capital One Cup at Wembley last week.
"In that moment, it was very productive for the team. And I hope in the future it can be again. In other moments Sergio was injured, Negredo played very well at that time. [Edin] Dzeko and Negredo, Dzeko and Sergio have also done it. It's important to have important strikers," Pellegrini explained.
"Maybe it is a little bit of all of those things. It starts with a problem with his shoulders, then his confidence. Strikers also live from the goals they score, but I trust absolutely that Alvaro will return to his normal performance. He will continue scoring goals," he added.
Aguero's return to full fitness was a welcome boost for the former Real Madrid manager as he hopes to overturn the 2-0 deficit in the round of 16 champions league clash against Barcelona next week.
The 25-year-old made his return during the 3-1 victory against Sunderland in the Capital One Cup final and also went on to play for 56 minutes for his country in a goalless international friendly against Romania.
"Maybe not playing so many matches is not good for a player. You never know what is best. I think Sergio will always be very important to us, whether he's fresh or not. I think it was very useful for Sergio to play the 50 or 60 minutes with his national squad. He played the same amount of minutes in the final so every match he will improve," Pellegrini said.