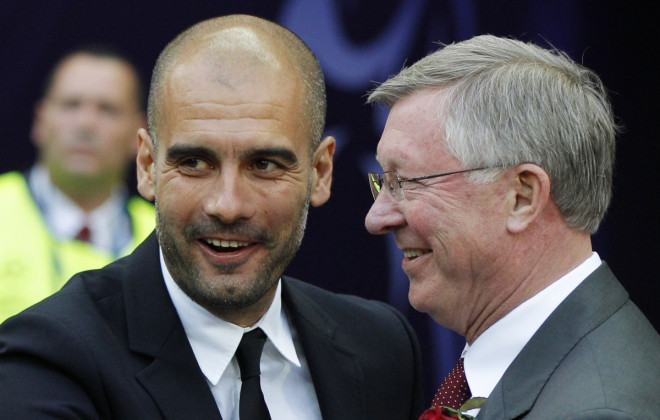 Bayern Munich boss Pep Guardiola has hinted that Sir Alex Ferguson offered him the chance to become Manchester United manager before the appointment of David Moyes.
The two-time European Cup winner was among the list of candidates to eventually replace Ferguson before Moyes was installed, less than 48 hours after the Scot announced his shock retirement last May.
But on the eve of the Champions League quarter final first leg between United and Bayern at Old Trafford, which comes amid mounting pressure on Moyes' position, Guardiola has rocked the boat further by claiming he met with Ferguson before he took the job in Munich - although he refused to confirm whether any formal offer was made.
"He [Ferguson] invited me to a super restaurant," Guardiola explained. "We had a very good time but my English is not so good, so when Sir Alex spoke quickly I didn't understand him. Maybe I didn't understand if I received an offer or not!
"It was a friendly dinner, like always he has with me. He was so gentle and we spend a very good time together."
Though Guardiola has attempted to down-play a possible offer from Ferguson, who made a personal approach to Moyes during the twilight of his career at Everton, the account works to again undermine the current United manager.
After an insipid defence of their league title and an uncertain route to the last eight stage, United are heavily unfancied against a Bayern side looking to take another step towards becoming the first club to retain the European Cup in the Champions League era.
Moyes has come under increasing scrutiny from the United support after an uncertain first season in charge but many have cited the aging squad he inherited from Ferguson as the source to his problems.
But Guardiola has refuted suggestions Ferguson is to blame, saying: :"Sometimes many, many things happen that are difficult to understand. I don't know how Sir Alex Ferguson can have a bad influence on this club. I think it's completely the opposite.
"This club was the best club in England thanks to him. He re-organised the club and put the club on another level in this country.
"It's good for the Champions League next season. But I am pretty sure Alex Ferguson was the most important person in this club's history, at least in the last half-century."
He added: "When Manchester United decided to take David Moyes it is because they are able to do it. Sometimes you need a little more time. The decisions of Manchester United are always right. They know he is a good coach and did a good job at Everton."