A rare and fragile Peruvian funeral shroud dating back to the pre-Inca period has gone on display in Lima after being returned by a Swedish museum.
The Shroud of Gothernburg consists of more than 80 hues of green, blue, yellow and red, woven into an intricate pattern of 32 frames.
The shroud is one among the several Paracas textiles discovered on the Paracas Peninsula in the 1920s. Some 89 of these ancient shrouds are with Gothenburg City.
They were produced by the civilisation that flourished in the Paracas peninsula, in the south-west of modern-day Peru.
According to the Associated Press, the ancient Paracas textiles were stolen by the Swedish diplomat Sven Karell around 80 years ago. The shroud is one of four being returned to Peru, under an inter-governmental agreement, with another 85 textiles to be returned to the country by 2021.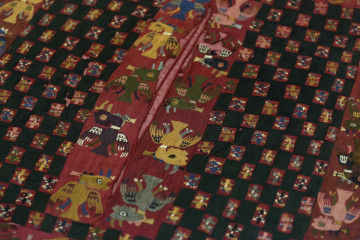 It has been reported that Karell took the fabrics out of Peru after they were discovered in the Paracas Peninsula, where the desert climate helped to protect the Alpaca wool fibres.
Speaking to Fox News, Krzysztof Makowski, a University of Warsaw archaeologist who has studied the shroud as a professor at the Catholic University of Peru, said the texile was "perfectly preserved" despite being 2,000 years old.
"Across the world, the discoveries of textiles of this age are much rarer than any precious metal," he said. "If you wanted to find a Roman textile, you won't find anything because nothing was preserved. Textiles are very fragile. There are very few countries in the world that have conserved fabrics."
The shroud has now gone on display at the National Museum of Archaeology, Anthropology and History in Lima, Peru's oldest state museum. The textile depicts various animals, including frogs and cats, as well as people and corn.
Sweden's National Museum of World Culture in Gothenburg told BBC News that the Paracas funerary bundles "had been lowered into dry, cold and salty desert sand, protected from factors of deterioration such as oxygen and UV light."
Researchers believe the shroud may have been used as a calendar to track farming seasons.
Jahl Dulanto, an archaeologist at the University of Illinois who leads the Paracas investigation team, told the Times that experts do not yet understand how the creators of the textiles achieved the colour pigments and sewing techniques.