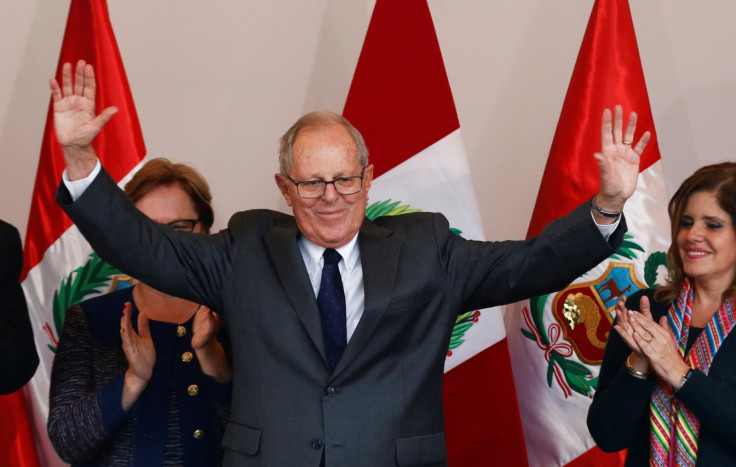 Economist Pedro Pablo Kuczynski edged out rival Keiko Fujimori to emerge victorious in Peru's cliff-hanger presidential election. The electoral commission announced Kuczynski won 50.12% of the voters over Fujimori's 49.88%.
The victory, however, will not be official until 41,964 ballots are settled by an electoral court, the BBC reported. Although Kuczynski has already thanked voters for his victory, his rival has yet to concede the race. "It's time to work together for the future of our country," he said on Twitter.
According to Reuters, outgoing President Ollanta Humala and the leaders of Argentina, Chile and Colombia have congratulated him. The former investment banker said he would wait for the complete results before claiming victory.
"We want a country that is united, reconciled and ready for dialogue," Kuczynski said, according to The Wall Street Journal. "We are going to decisive...but we are going to work for all Peruvians." He added, "To our opponents, I offer them my best intentions to talk. We are one country."
The race has been hard fought, with the two remaining within a small margin of one another. Fujimori, the daughter of former authoritarian leader Alberto Fujimori, has trailed behind Kuczynski throughout the race.
Reuters reported that 0.2% of the ballots have been questioned and could not be counted. Members of Fujimori's party suggested earlier that the electoral authorities annul bundles of ballots, including some that had already been tallied, due to irregularities at several polling stations. However, they said they would accept the official results.
About 152 bundles of ballots, holding up to 300 votes each, are under review by authorities. However, even if each of those bundles were decided in Fujimori's favour, it would not be enough to give her a victory. This would be Fujimori's second presidential loss, after Humala defeated her back in 2011.
Fujimori originally enjoyed a comfortable lead over Kuczynski, especially when she won the first round of voting in April. However, corruption scandals plaguing her Popular Force Party is believed to be behind her decline in support, analyst noted. Fujimori has also attempted to distance herself from her father, who is serving a 25-year sentence for graft and human rights abuses during his 10 year rule.
Kuczynski, a former prime minister, has promised to use his international financial experience to stimulate economic growth. According to Reuters, he is also more liberal on social issues than his rival.