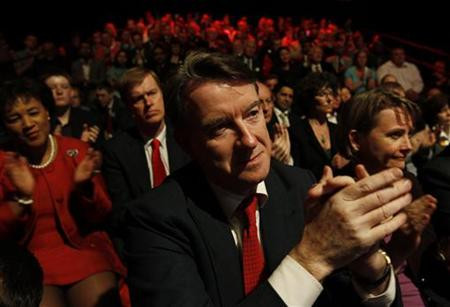 Peter Mandelson has emerged as an unexpected outsider for the managing director job at the IMF following the resignation of Dominique Strauss-Kahn over sexual assault charges.
The former Labour Secretary of State for Business, Innovation and Skills has been recommended by China, according to Martin Kettle's Guardian blog:
"Mandelson is definitely interested. The coalition might be open to it too. Germany and France are another matter. Mandelson nevertheless ticks a lot of boxes."
Benedict Brogan, blogging at the Telegraph has picked this up and suggests Mandelson could be a strong candidate:
"Objectively, Lord Mandelson is strong where Mr Brown is weak: he can be collegiate, he is superb at running complex bureaucracies, he delegates, is decisive and there is no one quite like him when it comes to the international greasing relationship building that the job demands.
Mr Mandelson could be a surprise for many because of his colourful political career, having resigned twice from government over two instances of allegedly misusing his political power.
Brogan continues: "That the Chinese are interested suggests that even if this idea is a non-starter Mandy has a lot more mileage in him than people give him credit for."
China could approve of Mr Mandelson because he showed solidarity with China over problems involving Chinese milk. He drank a whole glass of Chinese yoghurt after it was revealed that melamine previously added to milk formula gave kidney stones to tens of thousands of Chinese babies and also killed four and was banned around the world.
Mr Mandelson was hospitalised for a kidney stone the next week but the two events are apparently unrelated.
Wen Jiabao, Chinese Premier said he was "deeply moved" at the time to see Mr Mandelson drink the yoghurt.
Mr Mandelson has solid experience from his time as European Commissioner where he was responsible for the trade portfolio. He was also subject to conflict of interest allegations over his relationship with wealthy aluminium and Russian oligarch Oleg Deripaska and aluminium trade tariffs that would have benefited Deripaska.