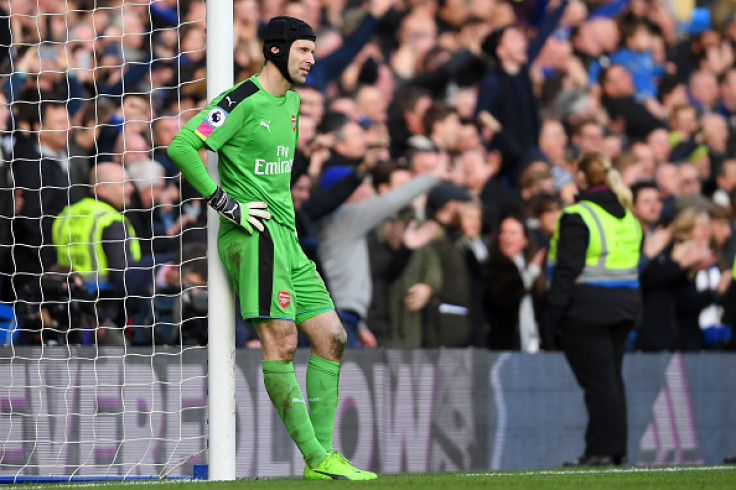 Arsenal goalkeeper Petr Cech will not be departing the club in the summer according to the Czech international's agent.
The 34-year-old has underwhelmed for the Gunners in recent months, at one point going eight league games in a row without a clean sheet between October and December. Most recently, his error gifted Cesc Fabregas a chance to net Chelsea's third goal against Arsenal in a 3-1 win.
The former Chelsea man has also come under scrutiny for allowing soft goals, while a section of Arsenal fans are not pleased that Cech has faced seven penalties (eight in his Gunners career) this season and is yet to save a single one.
Cech's form has sparked rumours that manager Arsene Wenger is looking for a replacement with the likes of Joe Hart and Jordan Pickford touted as possible signings.
The goalkeeper's agent Viktor Kolar, however, insists his client — whose contract expires in 2019 — will not be leaving the Emirates Stadium this summer.
"Petr's position at the club is secure and a summer transfer can be ruled out," Kolar said in a statement.
"Petr will be part of Arsenal until at least the end of his current contract."
Former Arsenal goalkeeper, David Seaman jumped to the defence of Cech, calling recent criticism a surprise.
"It is a surprise. For me, this season he has been really consistent. He has had made some big saves," Seaman said on talkSPORT.
"You look at the goals people are questioning and I don't see a lot wrong."
Even though the Arsenal legend did not think Cech needed to go, he thought Hart – currently on loan at Torino – would be an ideal replacement if ever there was a need of one.
"I think a lot of clubs will go for Joe because he is a quality goalkeeper and it was a massive shock in the summer when he left Manchester City," added Seaman.
"If the situation arises where Arsenal are looking for a goalkeeper then I can't see a better replacement than Joe Hart."