Singer Phil Collins has opened up about his alcoholism, saying he "nearly died" from the addiction, ahead of the release of his autobiography Not Dead Yet.
The former Genesis frontman detailed the struggle in an interview with The Sunday Times' Krissi Murison, revealing the problems began when he quit touring and moved to Switzerland.
"My organs were kind of f****d," he said. "It was spirits, corrosive stuff."
The extent of his drinking problem left him hospitalised with acute pancreatitis, at which point he remembers someone asking his children's nanny whether "Monsieur Collins' will" had been written.
Collins, 65, says he initially justified the drinking by believing "I deserved a break in my life where I could do anything, whatever I wanted."
In a separate extract from the book he writes: "It took me until the age of 55 to become an alcoholic. I got through the heady 1960s, the trippy 1970s, the imperial 1980s, the busy 1990s. I was retired, content, and then I fell. Because I suddenly had too much time on my hands."
Depression following the failure of three marriages also contributed to his downward spiral.
The singer drank so much on a Caribbean holiday to the Turks and Caicos Islands, while staying next door to Rolling Stones guitarist Keith Richards, that he had to be airlifted to New York for treatment.
The star discussed the controversy over reports that he divorced Jill Travelman, his American second wife, via fax in 1984.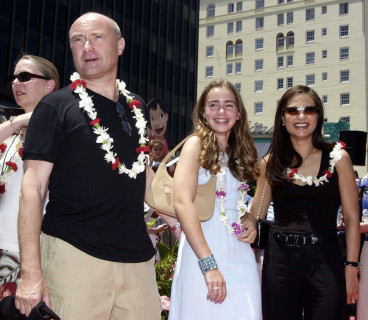 Collins explains, "The implication was that I was saying 'Hello darling, I want a divorce'. That wasn't the case," he insisted.
"We had discussed that on the phone and probably in person. I was [on tour] in Frankfurt, trying to get through [to his then home in Sussex]. The phone kept going down so I sent a fax from the dressing room. All I know is that I have never asked for a divorce by fax."
The spiral of discontent led fans to fear for his life, concerns he appeared to reinforce in a Rolling Stone in 2004 where he admitted he "had suicidal thoughts", but he now says he would never take his own life, as his kids kept him going.
Collins is currently living with Orianne, his third wife, whom he legally divorced in 2008. The couple share Collins' £27m ($33m) mansion.
Collins says he now feels able to enjoy a glass of wine after giving up alcohol for three years following treatment with disulfiram, a tablet that makes drinkers feel sick when they consume alcohol.
Rumours continue to swirl about an impending comeback, with NME reporting Collins could be set to announce a string of shows and festival dates next year.
Collins officially retired in 2002, due to injuries to his back and arms caused by years of drumming but returned to perform at the opening ceremony of US Open tennis tournament in August, with his 15-year-old son, Nicholas, on drums.
He remains one of only three artists to have sold more than 100m records both as a solo artist and as part of a band. The others are Michael Jackson and Paul McCartney.