Philippine President Rodrigo Duterte has warned that those who criticise and oppose the imposition of martial law in Mindanao province will be sent to jail. He clearly stated that he will lift martial law only when the region is safe and after consultation with the military and the police.
The firebrand leader declared martial law in the province on 23 May after Isis-linked Maute group members invaded Marawi city and laid siege. He had then argued that military rule will help in keeping the people of the region safe from terrorist attacks.
The besieged town has since become a battleground for Filipino soldiers and Maute militants as well as Abu Sayyaf group members. Clashes continue to take place in the city, with nearly 317 Maute group members, 82 government troopers and 39 civilians already dead. Residents of the besieged area are facing an acute food shortage and were reported to be feeding on cardboard boxes and leaves.
"When is the time to lift the martial law? And then I will ask the military and the police, 'is this safe now?' And when the chief of staff and the PNP [Philippine National Police] would say 'everybody would be safe and it's OK now,' I will lift it," Duterte said in a speech on Saturday (1 July).
"Otherwise, it's not dependent on the whim," Duterte said, adding that those who oppose the martial law can approach the Supreme Court if they wish to but he will still not change his stance.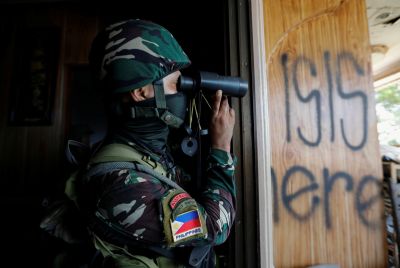 "If you go to the Supreme Court, will I believe you? I think it is still unstable, you will ask the court to lift it? I will have you arrested and place you in jail," he said, according to the Philippines Star. Duterte, however, did not say what charges he would file against critics.
Duterte, who had vowed to rebuild Marawi city, has taken the first step towards fulfilling his pledge. He recently ordered the creation of an inter-agency task force - Task Force Bangon Marawi - that will focus on recovery, reconstruction and rehabilitation of the city and nearby areas affected by the ongoing anti-militant operations.
Defence Secretary Delfin Lorenzana and Public Works and Highways Secretary Mark Villar will head the task force, ABS-CBN reported. The chairperson of the task force has been directed to "consult Muslim leaders in the rehabilitation of predominantly Muslim localities".