Philippine President Rodrigo Duterte, who imposed martial law in Mindanao more than a month ago to fight Isis-linked militant groups in the country, has apologised to the people of Marawi city currently trapped in the midst of a bloody war.
"I am very sorry that martial law had to happen. Forgive me for what happened to Marawi City," the firebrand leader told hundreds of internally displaced people at the National School of Fisheries in Barangay Buru-un, Iligan City on Wednesday (21 June), marking his presence in public after more than a week.
After declaring martial law and threatening the Islamist militants in Marawi, the leader was unusually missing from public for the past 10 days. His spokesman had said he was too tired and was resting.
Duterte reiterated that he takes complete responsibility for the martial law and the consequences of the ongoing fight between his soldiers and Isis-linked militants from Maute group and Abu Sayyaf who had laid siege to the city. He noted that the action was necessary.
He explained that the military action also helped avert a civil war between Christians and Muslims that could have ensued if the Maute problem was not resolved. He accused the militants of trying to establish their extremist ideology in the region.
"We won't allow that to happen because even the civilian will take up arms. It will be a civil war."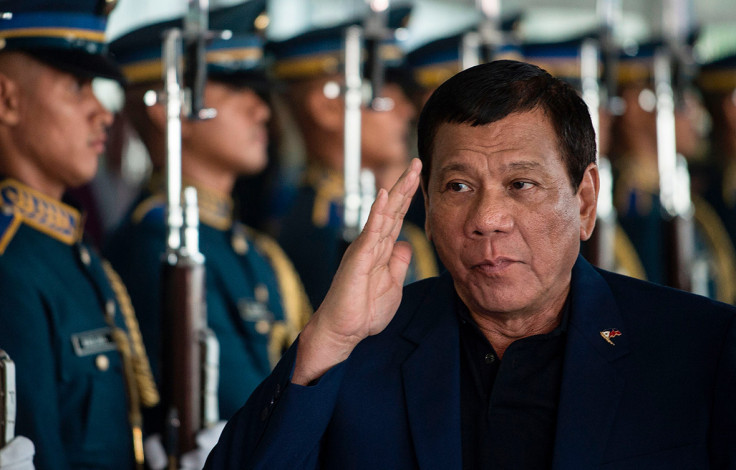 Duterte then reassured the affected people that Marawi city will be rebuilt and all of them rehabilitated. "I will help you. I will not forsake you until you have relocation.
"And we will rehabilitate Marawi. It will be beautiful again," Duterte promised the evacuees, according to the Philippines Star. He also regretted that the action had to be taken during the Muslim holy month of Ramadan.
He distributed food and cash to the affected people to enable them to end the holy month on 26 June with enough to eat. Recent media reports stated that there is an acute food crisis in the besieged town and residents were forced to eat leaves and cardboard boxes for survival.
Acting to fulfil his promise, Duterte has reportedly doubled the previously allocated budget for Marawi's reconstruction of 10bn Philippine peso (£314m, $397m). "The president raised the allocation (for Marawi rehabilitation)," Defence Secretary Delfin Lorenzana told the paper in a text message.