Philippines President Rodrigo Duterte said he "does not care" about human rights and will maintain his "shoot-to-kill" order for drug dealers until the last day of his term. Under his orders, the country has launched a massive hunt for people involved in drug sales and roughly 800 people are reported to have been killed since May, when Duterte came to power.
The president said that government officials who use their positions to engage in drug trade were the first on his kill list because they are playing with the lives of his citizens, according to official transcripts released by the presidential palace on Saturday, 6 August, of a recent news conference held in Duterte's southern hometown of Davao.
"This campaign (of) shoot-to-kill will remain until the last day of my term if I'm still alive by then," the 71-year-old said, adding: "I don't care about human rights, believe me." He also announced that he was offering his soldiers and police personnel "official and personal guarantee" of immunity from these prosecutions. In his crack down on drug peddlers, the president has even authorised citizens to shoot culprits to punish them for their crime.
He, however, dismissed reports that some of the 402 drug suspects, who the police confirmed have been killed so far, were "salvaged" – the local police term for summary execution. Some critics had reportedly accused the police of brutal executions.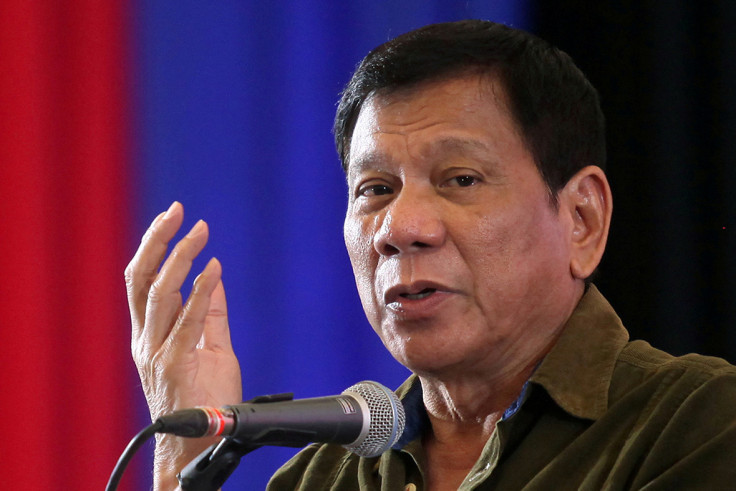 Amid unconfirmed local media reports that said hundreds of drug offenders have also been killed by suspected vigilantes, the United Nations has condemned the country's stance against crime and criminals. The UN anti-drugs office issued a statement on Wednesday (3 August), condemning the killings.
"The United Nations Office on Drugs and Crime remains greatly concerned by the reports of extrajudicial killing of suspected drug dealers and users in the Philippines," its executive director Yury Fedotov said in the statement, Agence France Presse reported.
"I join the United Nations secretary general in condemning the apparent endorsement of extrajudicial killing, which is illegal and a breach of fundamental rights and freedoms," Fedotov added.
Earlier in June, UN secretary general Ban Ki-moon had also strongly condemned Duterte's drug war. However, the president has hit back at critics saying it is "none of their business".
"I'm waging a war. I am now invoking the articles of war," Duterte said, adding, "The Filipino is crying for justice" from crimes committed by drug offenders. He also said that he is confident he will not be impeached or removed from power due to his bold anti-crime campaign as his countrymen want the same.
"These NGOs (non-governmental organisations) that are complaining to the United Nations, this is none of their business," Duterte said.
Following these killings in the country, police said that more than 500,000 people have surrendered to the local authorities and vowed to permanently give up use of illegal drugs.