A powerful, fast-moving storm is lashing the northeastern United States, with the potential for more than a foot of snow along the heavily populated Philadelphia-to-Boston corridor.
The US National Weather Service predicted that the Boston area and eastern Maine could get 12 to 18 inches of snow, and a blizzard warning has been issued for all of Long Island. New York City could see eight to 12 inches and the Philadelphia area four to 8 inches. Near whiteout conditions were possible, with the snow expected to fall at a clip of two to four inches per hour at its peak.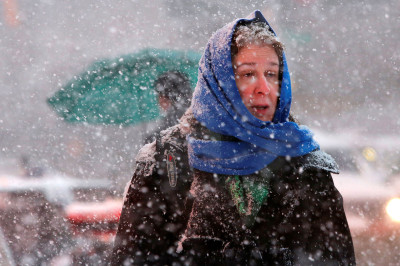 Schools have been closed in Albany, New York City, Philadelphia and Boston and numerous accidents have been reported. Nearly 1,700 flights have been cancelled at New York City's three major airports because of the powerful storm hitting the region. Officials also warned of high winds, coastal flooding and possible power outages.
New York City Mayor Bill de Blasio said people should stay home. "If you need to go out, please, don't use your car," de Blasio said on NY1 television.
The storm comes a day after much of the Northeast enjoyed a brief glimpse of spring, with temperatures hitting 60 degrees Fahrenheit (15.5C) in some places.