Photos show scenes of devastation after a series of tornadoes tore through New Orleans and other parts of Louisiana. One of the tornadoes was half a mile wide. The National Weather Service said it was the first EF3 twister ever to hit New Orleans, meaning its winds reached from 136 to 165 mph (219km/h to 265km/h). The worst damage was in 9th ward of the city, which was heavily flooded in Hurricane Katrina in 2005.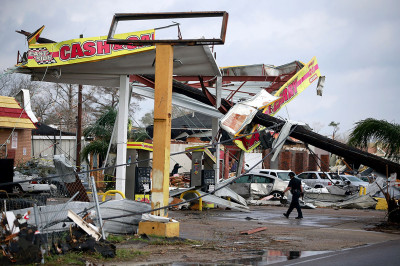 Officials say the tornadoes injured about 40 people, destroyed homes and businesses, flipped cars and trucks, and left thousands without power, but no deaths were reported.
Governor John Bel Edwards declared a state of emergency throughout Louisiana, as search and rescue teams scoured the region for survivors. "The width of the devastation was unlike any that I have seen before," Edwards told a news conference. "When you see it from the air you're even more impressed that so few people were injured and that nobody's life was lost."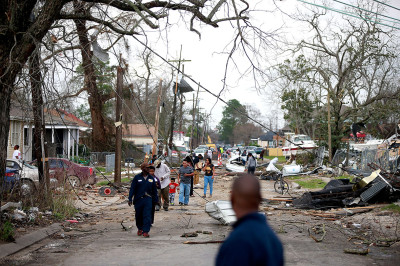 The storm system battered New Orleans and suburban Baton Rouge, marking the fourth time in a year the state has been jolted by natural disasters. A string of tornadoes struck in February 2016 and four people died in widespread floods in March. Louisiana was then devastated by major flooding in August, when more than 60,000 homes were damaged or destroyed in 20 parishes, or territorial districts, marking the state's worst disaster since Hurricane Katrina in 2005.
Local residents told dramatic stories of loss and lucky escape. Dwight Powell had just parked his Lexus inside his garage to avoid hail damage when the twister struck. At least his Yukon pickup truck would be OK, he thought: It was in a friend's repair shop, 60 miles north. Then his phone rang. "The man called me this morning and said: 'Man, the tornado hit your truck,'" Powell said. That's a bad joke to tell a friend who just lost his house, he told him. But it wasn't. The truck was slammed by another tornado that hit Donaldsonville.
Powell had just finished restoring his house after buying it as blighted property. "I was about to put my house on the market for sale this Friday. This Thursday, I was going to get homeowners' and flood insurance," he said. He and an employee saw the tornado from the back door, and moved to the front. "All we heard was that train sound, WooWooWoo BOOM! In 15 seconds it was over," he said. The front of the house was intact, but "the whole back is gone. The garage is gone. The kitchen gone."
Rocqueisha Williams lives in the same neighbourhood and was sitting on her bed when a friend called to warn her to take shelter. She said she didn't see any rain, but then she heard thunder. She grabbed a mattress and looked out her front window as she ran to the bathroom. The sky was "charcoal grey, like the world was just grey... and, running through, a strong bolt of turquoise lightning. Glass was coming toward me. It sounded like the wind and everything was chasing me," she said. "The wind was whistling, Tyoo! Tyoo! Glass was breaking out of the window I'd just looked out of." She emerged to find the bed she just left covered by shattered glass. "The Lord was on my side," she said.
Then she ran, shaking, to the nearby school where her eighth grade sons were, because "I knew if I was hit, they were also hit," she said. Eric Williams, 14, and Erin Williams, 13, were fine. Her other children, Ke'Erica Williams, 15, and Evrin Thompson, 11, were at other schools outside the tornado's path. She said pieces of walls and part of a blue door had crashed through her car windows. "Someone else's lingerie is in my front yard," she said.
Yoshekia Brown lost everything to Hurricane Katrina in 2005. Now she's lost everything again: Three-quarters of her home in eastern New Orleans collapsed. "Sister, your house is gone," her brother told her as she drove home. She didn't believe it until she saw it herself. "I lived in between two blighted properties. One of those would have been gone before my house," she said. "It's just gone. Like the movie Twister." Luckily her two-year-old son and three dogs have survived, and her home was insured. She said she's not sure what to do next, but said "something good has to come from this."
The Baton Rouge area also got hit. Ascension Parish Sheriff's spokeswoman Allison Hudson says three people suffered minor injuries and several homes and some other buildings were damaged in the historic part of Donaldsonville, about 20 miles south-west of the capital.