Iraqi forces and Shia paramilitaries have entered the town of Hawija, one of two pockets of territory still under control of Islamic State (Isis/Daesh) in Iraq. Federal police commander Raed Shakir Jawdat said in a statement that the latest "phase of the operation to liberate Hawija" had begun with artillery and missile fire on jihadist positions. He said his units had entered the city from the northwest.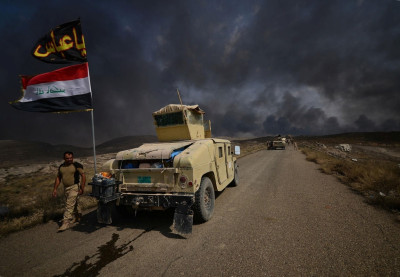 The offensive to dislodge Isis from Hawija, which lies west of the city of Kirkuk and north of Baghdad, began on 21 September. The UN has warned that up to 78,000 civilians could be trapped in the Isis-ruled town. UN humanitarian spokesman Jens Laerke said the number of people who have fled the fighting has increased from 7,000 people during the first week of the operation to some 12,500 people now. But up to 78,000 remain trapped, he said.
Security officials say the militants are preventing some residents from leaving, while others may be afraid of escaping toward government forces because of the likelihood of Isis snipers, bombs and booby traps. "We remain concerned for the lives and well-being of these vulnerable civilians and remind those doing the fighting that civilians must be protected at all times and allowed to safely leave Hawija," Laerke said.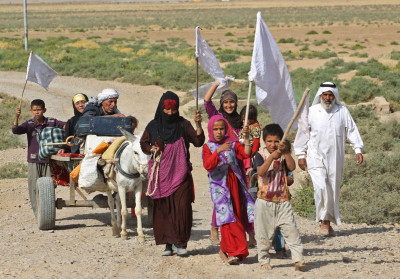 The final push into the town comes two days after they recaptured the Rashad air base, located 30km (20 miles) to the south of the town, which was used by the militants as a training camp and logistics site.
Army Lieutenant Colonel Salih Yaseen said the air base would help maintain security in northern Iraq as it would allow helicopters to transport soldiers and arms to the area. "The air base will help to put an end to the terrorists' pockets hiding in mountainous areas near Kirkuk and remove any possible threat to the energy facilities and oilfields," he said.
Plans to retake the town of Hawija have been complicated by political wrangling among Iraq's disparate security forces. The area is disputed between Baghdad and the northern Kurdish autonomous region, where a referendum on independence was recently held.
Isis militants set fire to three oil wells near Hawija to slow the advance of US-backed Iraqi forces and Shia militia groups. The Allas oilfield, 35km (20 miles) south of Hawija, was one of the main sources of revenue for Islamic State. "Terrorists are trying to use the rising smoke to avert air strikes while retreating," said army Colonel Mohammed al-Jabouri.
The other area of the country still under the control of the militant group is a stretch of land along the Syrian border, in western Iraq.
Islamic State's self-declared "caliphate" effectively collapsed in July, when US-backed Iraqi forces captured Mosul, the group's de facto capital in Iraq, after a gruelling nine-month battle. Syrian Democratic Forces are on the verge of recapturing the city of Raqqa, the militants' de facto capital in Syria.