Shia Muslims around the world have taken part in ceremonies to mark the religious festival of Ashura, or "Day of Remembrance". The holiest day in the Shia Muslim calendar is observed each year on the 10th day of Muharram, the first month of the Islamic year, to mourn the 7th century death of Imam Hussein, the grandson of Islam's Prophet Muhammad. His martyrdom is considered a defining event in the schism between Sunni and Shia Muslims.
While most of the media focus is on the very bloody ritual of self flagellation, the main aim of Ashura is the expression of deep sorrow over the death of Hussein, who died in the battle of Karbala in 680 AD.
IBTimes UK shares photos of Ashura commemorations around the world, from getting covered in mud in Iran to reenacting the battle in which Hussein was killed and beheaded by his enemies and a march through London celebrating both Ashura and the many victories over Isis in Iraq and Syria.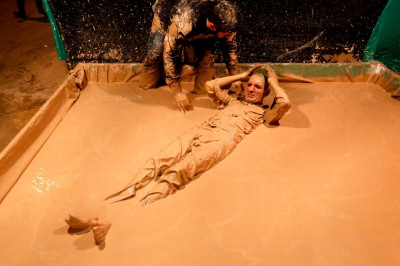 Ashura marks the start of a 40-day mourning period that culminates in Arbaeen – where millions of Shia Muslims gather in Iraq's holy city of Karbala in the world's biggest annual pilgrimage. Iraqi state-run media said more than 22 million pilgrims visited Karbala in 2016, setting a record for the annual pilgrimage, though that figure could not be independently verified.