Thousands of rescuers are continuing to dig through twisted wood and mud after floods and landslides caused by freak rains. Parts of Fukuoka, on the southwestern island of Kyushu, were hit by 593mm (23 inches) of rain in 48 hours. This is well over a month's rainfall for a usual July in the area, the meteorological agency said, and equivalent to one year's average rainfall in London.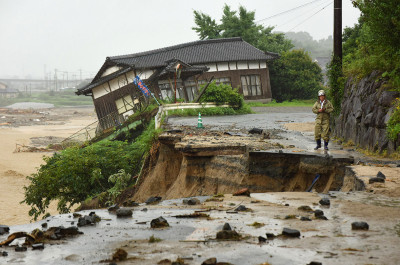 Roads and bridges were damaged or swept away, and dozens of vehicles and houses were destroyed and half covered with mud.
Rescue workers found four more bodies on Friday (7 July), bringing the death toll to six, with about 22 more missing. Troops and rescuers have now gained access to some of the villages that had been cut off and a rescuing more people and searching for more victims.
Chief Cabinet Secretary Yoshihide Suga said 12,000 troops and rescuers are focusing on remote villages where hundreds are still stranded. The operation has been slowed by mud and floodwaters and more flooding was forecast for the country's east. Residents from remote villages are being airlifted by military helicopters while soldiers waded through floodwaters carrying elderly residents on their backs.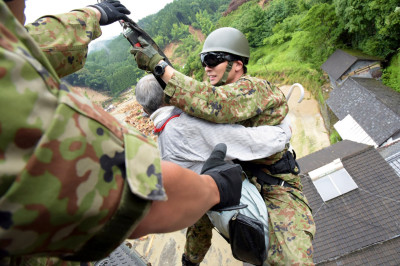 Fukuoka and neighbouring Oita, the hardest hit by the rain, are both largely rural prefectures but rivers are also rising in the city of Kitakyushu, which has a population of some 950,000 and issued evacuation orders for several districts. The rain was caused by a low pressure area over the Pacific that fed warm, moist air into Japan's seasonal rainy front.