In pictures: Rescue workers hunt for 17 people still missing after mudslides hit California
Hundreds of rescue workers and volunteers are continuing the gruelling work of hunting for survivors and digging up bodies in the sea of mud and wreckage in Santa Barbara County.
Hundreds of rescue workers and volunteers are continuing the gruelling work of hunting for survivors and digging up bodies in the sea of mud and wreckage left by flash flooding in Southern California. The death toll from the mudslides has risen to 17, with another 17 still reported missing. About 100 houses were destroyed by the torrent of water, mud and debris that came rushing down the hillside after torrential rains.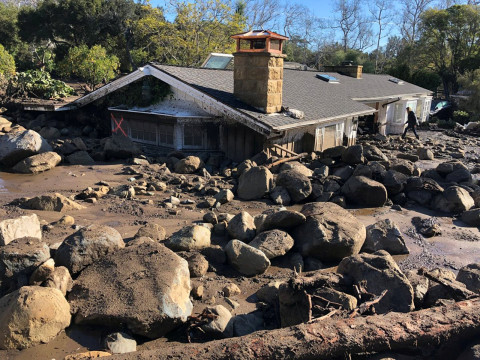 Search and rescue teams from all over California are working their way through the muck and wreckage in Montecito, a wealthy enclave of 9,000 people northwest of Los Angeles that is home to celebrities such as Oprah Winfrey. Flash floods have left the area strewn with mud, boulders, wrecked cars, trashed buildings and tree limbs in a scene that Santa Barbara County Sheriff Bill Brown compared to a World War I battlefield.
The flow was so powerful it swept several homes off their foundations, crushed others and wrapped cars around trees. At least two unrecognisably mangled cars were carried like driftwood all the way to the beach, where they were partly covered in seaweed.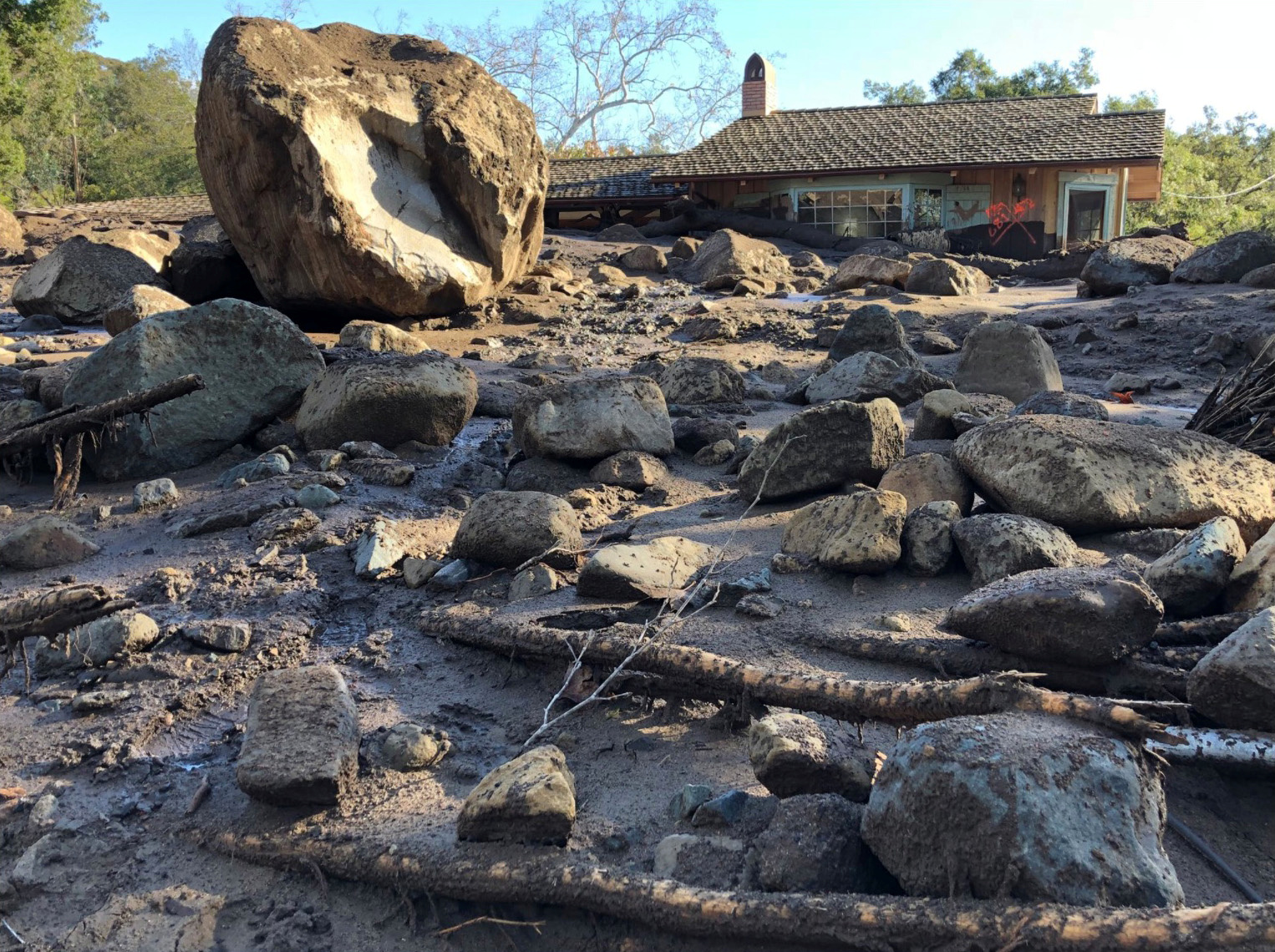 By Wednesday evening, some 500 searchers had covered about 75 percent of the inundated area, trudging through knee-deep ooze, poking long poles into the mud to probe for victims. Search dogs clamber on shattered heaps of wood that used to be homes. They have a long and arduous task ahead.
"A lot of the street signs are gone, the roads are impassable. It all has to be done on foot," said Deputy Dan Page, chief of the Altadena Mountain Rescue Team of the Los Angeles County Sheriff's Department, which sent help to the scene. "We've gotten multiple reports of rescuers falling through manholes that were covered with mud, swimming pools that were covered up with mud," said Anthony Buzzerio, a Los Angeles County fire battalion chief. "The mud is acting like a candy shell on ice cream. It's crusty on top but soft underneath, so we're having to be very careful."
Crews mark where bodies were found, often far away from a home, and use that information to guess where residents of a nearby home might have ended up as the surging mud carried or buried them.
Travis Hots, fire chief of Snohomish County Fire District 22, said even people buried only a few inches under the ground might initially be missed. "You could literally walk right past somebody because everything was grey" with mud, he said. Both he and Page said even finding the dead is gratifying because it offers a sense of closure to grieving relatives.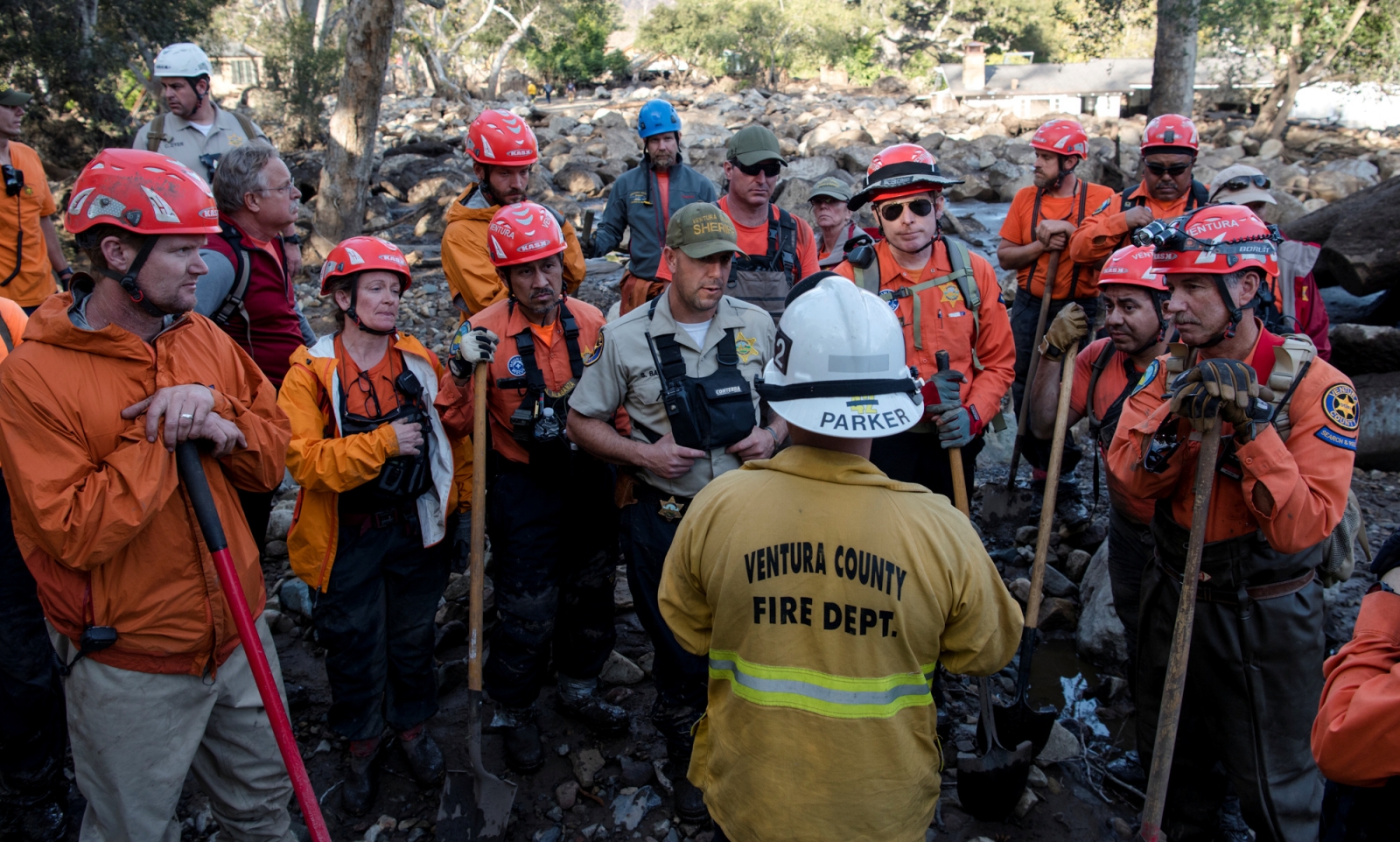 A dozen people have been hospitalised at Santa Barbara Cottage Hospital and four were in critical condition, Dr Brett Wilson said. "Most injuries we saw were related to fast-moving debris," Wilson said. "You can't even fathom what these poor patients went through to finally make their way to the emergency department."
A 30-mile stretch of U.S. Highway 101 linking Ventura and Santa Barbara is still covered in heavy debris and not expected to reopen until Monday. Because of the closure, boats were used to ferry some employees to Cottage hospital.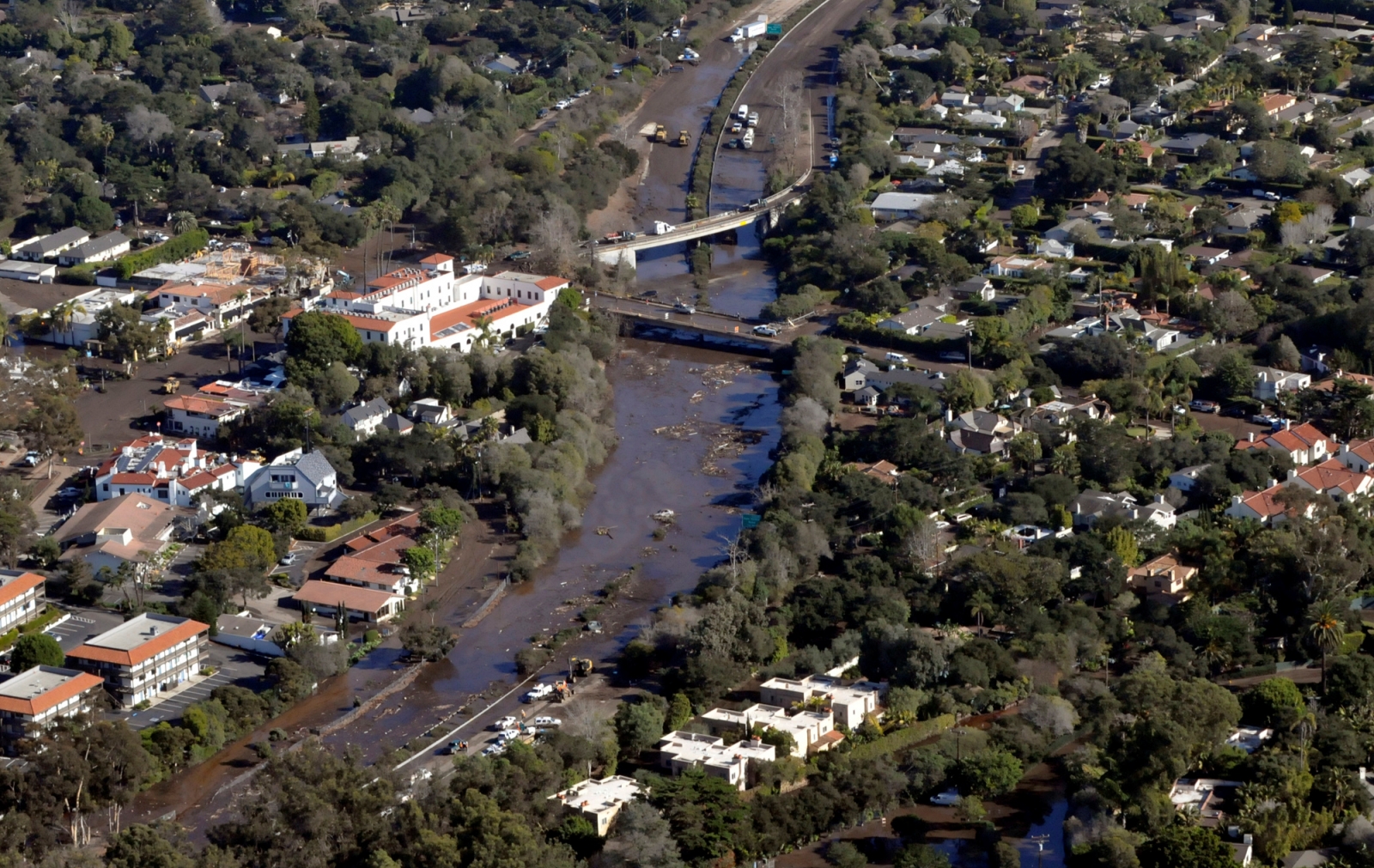 People in Montecito had counted themselves lucky last month after the biggest wildfire in California history spared the town. But it was the fire that led to the mudslide, by burning away vegetation. Heavy rains brought mud, huge boulders and other debris roaring down hillsides stripped bare by the wildfire.