Photos show terrifying power of deadly mudslides that swept through Santa Barbara county
Authorities are still trying to reach some areas and dig into the destruction to find dead, injured or trapped people.
The death toll from the mudslides that swept through Santa Barbara county is expected to rise as rescue workers search for an unknown number people still unaccounted for. Authorities are still trying to reach some areas and dig into the destruction to find dead, injured or trapped people. At least 15 people were killed and 20 people were hospitalised, with four being described as "severely critical" by Dr Brett Wilson of Santa Barbara Cottage Hospital.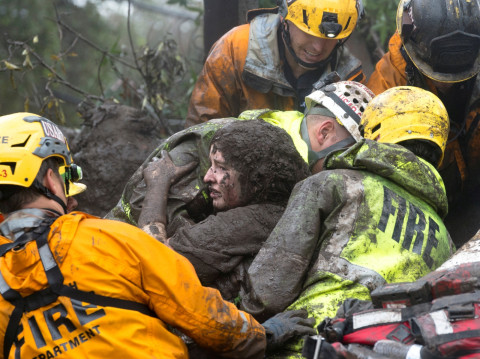 Dozens of homes were swept away or heavily damaged as torrential rain sent mud and boulders roaring down hills stripped of vegetation by the huge wildfire that raged through the area last month.
The mud was unleashed in the dead of night by flash flooding in the steep, fire-scarred Santa Ynez Mountains. Burned-over zones are especially susceptible to destructive mudslides because scorched earth doesn't absorb water well and the land is easily eroded when there are no shrubs. The torrent arrived suddenly and with a sound some likened to a freight train, as water carrying rocks and trees washed away cars and trashed homes.
Montecito resident Thomas Tighe told AP he stepped out of his home in the middle of the night and heard "a deep rumbling, an ominous sound I knew was ... boulders moving as the mud was rising." Two cars were missing from his driveway and he watched two others slowly move sideways down the middle of the street "in a river of mud." In daylight, Tighe was shocked to see a body pinned by mud against his neighbour's home. He wasn't sure who it was.
The mudslides toppled trees, demolished cars and covered residential neighbourhoods with a thick layer of mud, blocking Highway 101, a major north-south route along the coast. "The best way I can describe it is, it looked like a World War One battlefield," Santa Barbara County Sheriff Bill Brown said at a news conference.
Helicopters were used to pluck more than 50 people from rooftops because downed trees and power lines blocked roads, and dozens more were rescued on the ground, including a mud-caked 14-year-old girl pulled from a collapsed Montecito home where she had been trapped for hours. "I thought I was dead for a minute there," the dazed girl could be heard saying before she was taken away on a stretcher.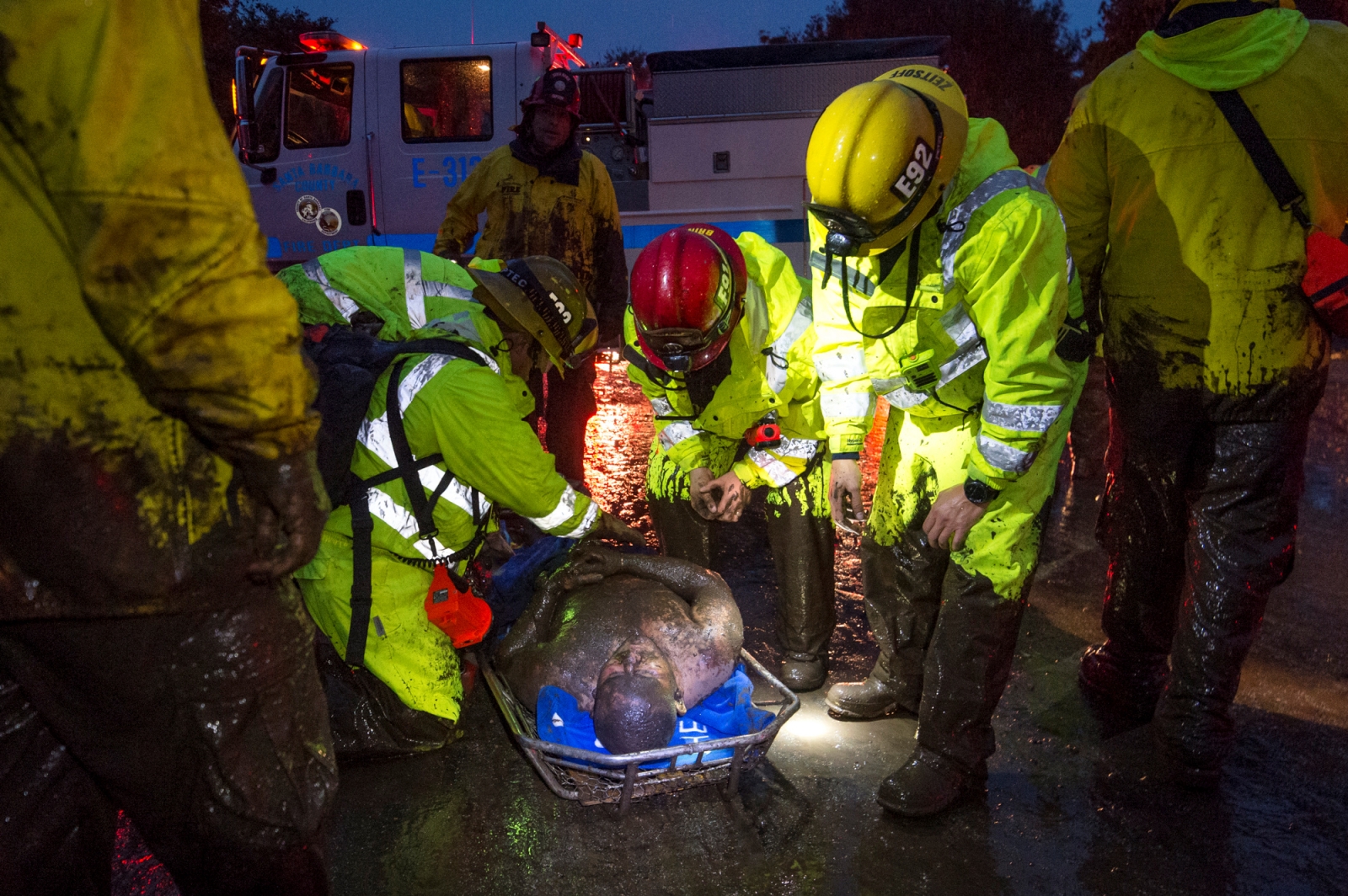 Residents had been ordered to evacuate or urged to do so voluntarily, but only 10 to 15 percent complied with mandatory orders, said Amber Anderson, a spokeswoman for the Santa Barbara County Fire Department.
Most deaths are thought to have occurred in Montecito, a wealthy enclave northwest of Los Angeles that is home to many celebrities. Ellen DeGeneres posted a picture of US Highway 101 looking like a muddy river. The link connecting Ventura and Santa Barbara is expected to be closed for two days.
Oprah Winfrey shared photos of the deep mud in her backyard and video of rescue helicopters hovering over her house. "What a day!" Winfrey said. "Praying for our community again in Santa Barbara."
Montecito is still scarred by the Thomas wildfire, which erupted on 4 December and became the largest ever recorded in California. It spread over more than 440 square miles (1,140 square kilometres) and destroyed 1,063 homes and other structures. It continues to smoulder deep in the wilderness.