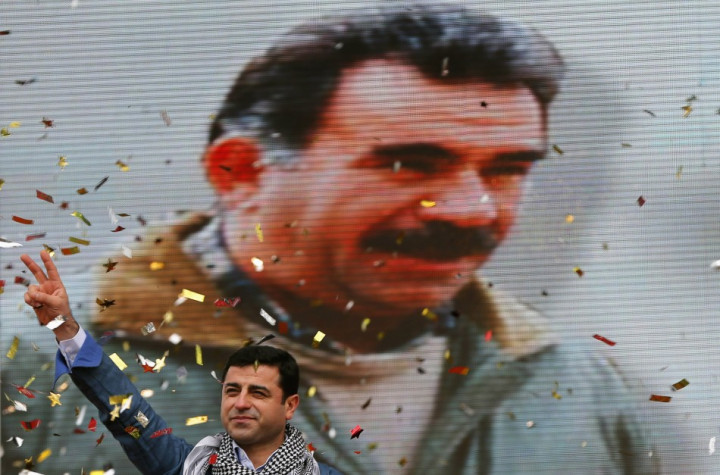 The jailed leader of the Kurdistan Workers' Party (PKK), Abdullah Ocalan, has announced a ceasefire with Turkey, calling on all armed militants to disarm and withdraw from the country to launch the peace process.
"Weapons should go silent and politics should speak," Ocalan said in his "historic call" read out by fellow politicians in the southeastern Kurdish stronghold city of Diyarbakir. The ceasefire was announced during celebrations for Newruz, the Kurdish New Year.
"In the presence of millions of witnesses, I'm telling you, let a new process begin. No to weapons, yes to politics.
"We're in such a phase that our armed forces should withdraw from the country.
"This is not an end, this is a beginning, beginning of a new politicsA new era is starting. This is a political era."
PKK's fight for Kurdish autonomy in Turkey has lasted 30 years and cost an estimated 45,000 lives.
With his statement drafted in the Turkish prison island of Imrali where he has been held for 14 years, Ocalan has effectively ended the conflict.
"The statement I am preparing will be a historical call," Ocalan announced. He also pleaded for the support of the Turkish government: "We want to rapidly solve the arms problem without losing time or another life."
The truce would be in return for wider constitutional recognition and language rights for Turkey's 15 million Kurds. The peace plan will be drafted by Ocalan, pro-Kurdish legislators and PKK bodies in Europe and northern Iraq.
Turkey's prime minister Recep Tayyip Erdogan has pledged that no militant would be "touched if they leave the land".
Earlier in March, the PKK released eight Turkish captives as part of peace efforts.
The hostages - six soldiers, a trainee local administrator and a police officer - were handed over in northern Iraq to a group including the pro-Kurdish Peace and Democracy Party (BDP) and NGOs.
Ocalan called in February for a prisoner exchange as a peace gesture.
Talks between Ankara and Ocalan have culminated in Kurdistan abandoning demands for an independent homeland within Turkey.
The ceasefire will be a test of Ocalan's influence over the PKK after years of detention.