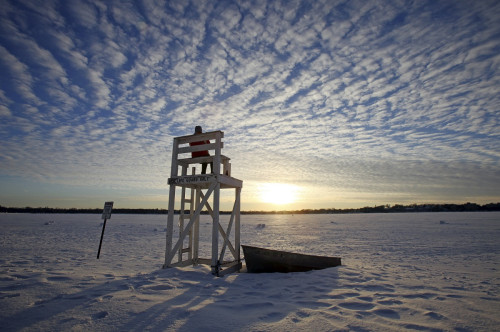 Temperatures in the eastern states of the US have begun to rise and the Arctic winds are dying down as the Polar Vortex moves across the Atlantic.
Vast areas of Canada and the US have been subjected torecord sub-zero conditions, leaving at least 21 people dead and causing widespread disruptions.
Homeless people were among the fatalities because they had no access to shelter. At least five people collapsed and died while shovelling snow.
The Arctic cyclone brought heavy snow and ice, along with record freezing temperatures, which affected an estimated 190 million people in the US.
In Chicago, temperatures fell to -24C, while the mercury in Atlanta, Georgia, reached a record low of -14C.
A "hard freeze warning" for cold temperatures that are dangerous to both people and animals still remained for areas of Georgia, Alabama, Louisiana, Florida and Mississippi.
More than 11,000 flights in the US have been cancelled since the vortex started in the Midwest.
On Monday, an escaped prisoner from Kentucky handed himself in because he was too cold. Having escaped a minimum-security facility in Lexington, he walked into a hotel and asked the receptionist to call the police.
The weather severely affected train and road travel. Five hundred Amtrak train passengers were stranded for 12 hours in rural Illinois. One woman was killed as her car slid on black ice into the path of tractor-trailer in Kentucky.
Temperatures were expected to remain below zero for some time but were beginning to rise.