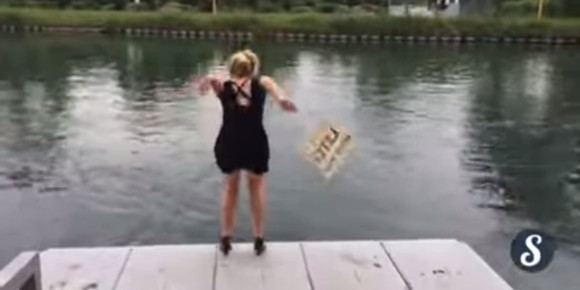 Police have warned of the dangers of a new Facebook craze in which people hurl themselves into water fully clothed as part of a dare.
Known as a "l'eau ou au resto" – the viral dare involves people throwing themselves into water or paying for a meal in a restaurant.
The game has claimed its first victim, after a 19-year-old man who rode his bike off the quayside in Beganne, France, and drowned while a friend filmed.
He is believed to have tied his bike to his leg so he wouldn't lose it, but its weight dragged him down before he was able to untie it.
"The river was six metres [20 feet] deep and he could not get back to the surface," police colonel told France 3 Brittany TV station.
"Don't be influenced by a stupid phenomenon of the moment," warned French police on Facebook.
Videos have been posted on YouTube or people taking part in the dare.
In one, a man swigs from a bottle of beer before riding a bike down a ramp and into a canal.
Another sees a middle-aged man in a leotard and leopard-print scarf attempt to launch himself into water but slips and hits his head on rocks.
A young woman in a dress tries to jump from a pier in one, but is wearing high heels and slips, hitting her legs as she falls into the water.
L'eau ou au resto is similar to the Neknominate craze, which involved consuming large amounts of alcohol as a dare then passing the challenge on to someone else. The game claimed victims in the UK and the US.