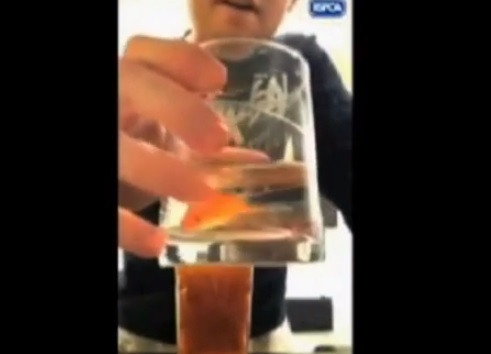 A Newcastle army recruit has become the first person in Britain to be prosecuted in a case involving the internet drinking game Neknominate after he swallowed a live goldfish on camera.
Gavin Hope, 22, posted footage of himself on YouTube making a cocktail of lager, chilli powder, Jaegermeister, an egg and fish food before swallowing his pet goldfish on camera and washing it down with the mix.
The father-of-one, of Pelaw, Tyne and Wear, admitted to one count of animal cruelty and was fined £300 by Gateshead magistrates.
A spokesman for the RSPCA said: "Eating a live animal and posting a video of it online for entertainment is not some light-hearted joke. It is unacceptable.
"The RSPCA takes the use of animals in these Neknominate challenges very seriously.
"We urge people not to involve animals in this horrible craze and to report to us anyone who is on our cruelty line 0300 1234 999."
The video showed Hope, who is due to start with the armed forces as a royal engineer in September, thanking a friend for nominating him.
Neknomination is an online drinking game, which originated in Australia, where people post videos of themselves drinking dangerous and bizarre concoctions of alcohol then daring their friends to outdo them within 24 hours.
In March, a Facebook profile under the name Shaun Wilson, from Newcastle, posted footage of him downing a deer's blood after killing it. He was investigated by the National Gamekeepers' Organisation, which condemned his "insensitive" actions but decided that "no crime took place nor were there any animal welfare implications".