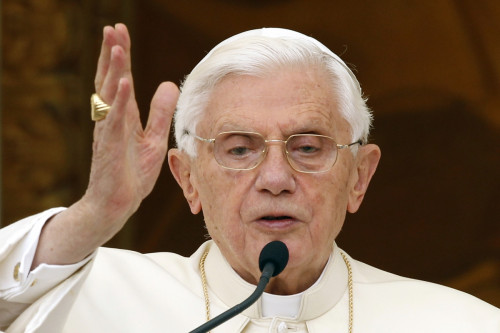 A religious studies teacher is back in the classroom a year after he was banned for faking sexual intercourse with an image of the former pope.
Teacher Andrew Jones was booted out of lessons after video emerged on YouTube of him interfering with a life-size cardboard cutout of Pope Emeritus Benedict XVI.
Governors at Caldicot Comprehensive School in Newport, Wales, took a dim view of Jones simulating a sex act with the retired pontiff and suspended the 29-year-old on full pay.
But a student campaign on social media to get him reinstated has paid off.
One student said: "Mr Jones is a good teacher – everyone likes him because he's good fun. On the video you could see him humping the Pope, but he was just messing around.
"He is the best teacher in the school."
In the clip on YouTube – which was removed soon after appearing on the website - youngsters can be heard cheering on Jones as he seizes hold of the cardboard pope.
A spokesman for the school said that the issue had been resolved and that Jones had returned to work.