A tweet from retired NFL quarterback Donovan McNabb's Twitter account praising Pornhub queen Mia Khalifa was reportedly posted by a hacker.
"Mia Khalifa's Instagram is jaw dropping," the tweet read, along with a risque article link.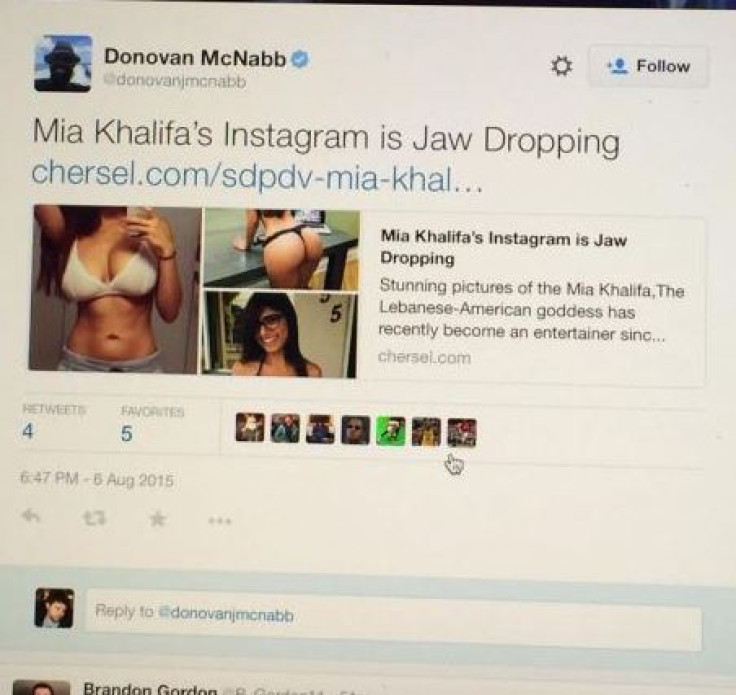 McNabb took to his Twitter account, to clear the reports.
"I apologize for the messages sent out from my account yesterday. I was unfortunately hacked temporarily," he wrote.
This comes after the Lebanese-born adult actress had accused NFL player Duke Williams of flirting with her.
Khalifa posted a screenshot of private messages the 24-year-old Buffalo Bills star sent her on Twitter, as early as February. He apparently kept trying to get in touch with her in the following months.
After ignoring several of his messages, Khalifa replied: "I am in Miami. With my boyfriend. Who's d**k game is A1".
"Warning: Trespassers in my DM's will be shot and hung out to dry in public," she captioned the screenshot.
However, Duke defended himself on his official Facebook page, and said the chats were manipulated.
"Shutting this down NOW & FINAL... The full conversation wasn't posted. It was ONLY an invite to a pool party & PG. Other people were invited as well. There's no thirst or trespassing here. Trust that I am very hydrated #realtalk" he wrote.