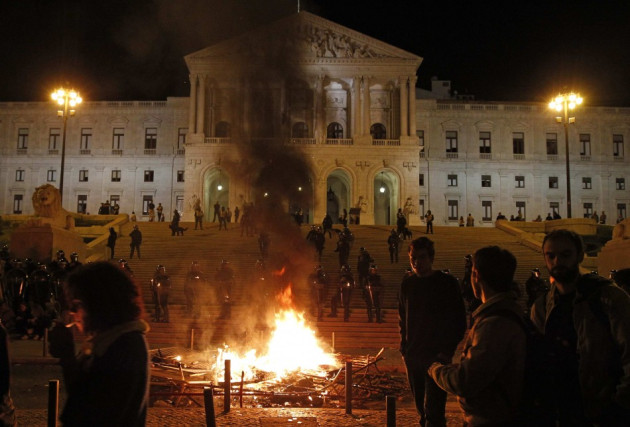 Protests have erupted in Lisbon surrounding Portugal's 2013 budget, which contains a raft of tough austerity measures including steep tax rises, spending cuts and reductions in government workforce payrolls.
Thousands of protesters have gathered outside the parliament building in Lisbon to protest against the budget, and sought the resignation of Prime Minister Pedro Passos Coelho's centre-right government.
Antonio Jose Seguro, the leader of the main opposition Socialist Party, termed the measures "a fiscal atomic bomb" that would shatter the economy. Portugal's largest trade union, the General Confederation of Portuguese Workers, has already announced a general strike against the austerity plans on 14 November.
Notable measures contained in the budget include a tax rise of close to four percent for 2013, and spending reductions worth €2.7bn. Nearly two percent of the country's 600,000 public sector employees will be made redundant.
Minister's plans also include a one-off 4 percent surcharge on earnings, an increase in capital gains tax from 25 percent to 28 percent, higher property taxes and stringent cuts in pension entitlements.
The new measures are expected to raise €4.3 bn, 80 percent of Lisbon's austerity targets for next year.
Portugal is subject to an EU bailout of €78 bn ($100bn, £63bn), which it sought to avert bankruptcy in 2011. Under the terms of the bailout Portugal is obliged to reduce its budget deficit to 3 percent by 2014, and the country's ministers hope to bring the figure down to 4.5 percent next year.
"The margin of manoeuvre for unilateral decisions is non-existent, a rejection of the 2013 budget would mean a rejection of the bailout programme," said Portugal's finance minister Vitor Gaspar, justifying the unpopular budget.
"Asking for more time (under the bailout) would lead us to a dictatorship of debt and to failure."
However critics predict another straight year of contraction for the economy as a result of the tough measures set out in the 2013 budget.
Portugal's unemployment rate stands at 15.9 percent, a record level, which is predicted to go up to 16.4 percent next year.