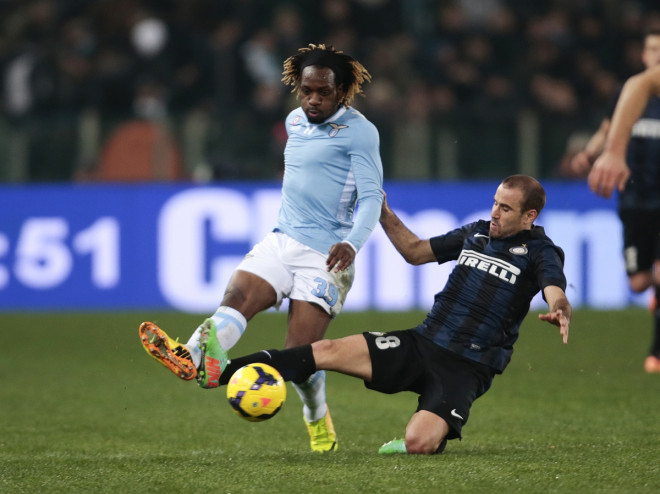 Lazio full back Luis Pedro Cavanda has shrugged off interest from Arsenal amid reports suggesting he is being lined up to replace Bacary Sagna.
The Gunners have been locked in negotiations with France international Sagna throughout the season in attempts to tie him down to a new deal with his current contract at the Emirates set to expire this summer.
Arsene Wenger's policy of only offering players over the age of 30 a one year deal is thought to be the source of the impasse that threatens to leave the club short at right back.
23-year-old Cavanda has excelled for Lazio this term, fuelling speculation that the Gunners have identified him as Sagna's long term replacement. However the Belgian has put talk of a possible move to the Premier League on hold in order to concentrate on the final months of the season in Rome as he aims to impress his national team manager.
"I must still grow and I have no intentions of stopping myself from doing so," Cavanda told Sport Foot Magazine.
"Is Arsenal interested in me? I'll think about these things with my agent soon, I don't want to talk about it right now.
"National team? My priority is Belgium. I was called by Angola, I have chosen the Red Devils instead. I still hope to be called for the World Cup in Brazil, but if I happen to miss it, then I work hard to earn a place for the European tournament in 2016."
Although Wenger still has Carl Jenkinson available at right back, the Gunners boss is likely to be in the market for another option should Sagna leave. Another name linked with succeeding the 32-year-old Frenchman has been Toulouse defender Serge Aurier, who has made it unequivocally clear that he would jump at the chance to move to the Emirates.
"You cannot refuse Arsenal. You can ask any player if he would play for Arsenal and I think he would respond positively without hesitation," Aurier said earlier this week.
"It is certain that Arsenal is a dream. It's clear that it's good, even if there is nothing concrete. It doesn't leave me indifferent that my profile is of interest to ambitious clubs. But it doesn't distract me."