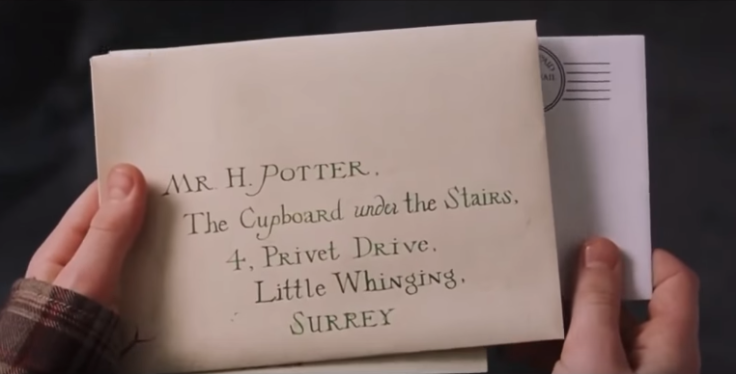 Still waiting for the owl to drop off your Hogwarts acceptance letter? In the meanwhile, why not own the one sent to Harry Potter?
Prop Store, a movie collectable auction house is auctioning off the life-changing letter from the school of witchcraft and wizardry which Harry (Daniel Radcliffe) received in the 2001 film Harry Potter and The Sorcerer's Stone.
According to the description on the website, the envelope is addressed to "Mr H Potter, The Cupboard under the Stairs, 4, Privet Drive, Little Whinging, Surrey". The envelope is made from marble-effect paper, with Harry's address printed in green on the front of the envelope, and the Hogwarts crest on the reverse.
"The hero envelope features a real red-wax Hogwarts seal, unlike the many entirely printed versions that were also used in the scene," the description states, adding that the envelope includes a "letter seemingly contained within". The wax seal on the back, while cracked has not been completely broken and one can still easily identify its Hogwarts crest.
Listed at a starting price of £1,500, the product, which was originally sold at a charity auction, includes a letter of donation from Warner Bros along with a copy of the acceptance letter contained within. This means that the lucky purchaser can read the Hogwarts invite without actually breaking the seal on the collectable.
Anyone familiar with the film (or book) is aware that while Harry received numerous letters from Hogwarts, only a few were addressed to the cupboard under the stairs. They were later addressed to "The Smallest Bedroom, 4 Privet Drive" and then to "The Floor, Hut-on-the-Rock, The Sea".
Online bidding for the letter is already open and a live auction will take place in London on 26 September. For those have already received their Hogwarts invite, the prop store is also auctioning other Potter memorabilia including the Howler Ron Weasley's (Rupert Grint) mother sent him in Chamber of Secrets along with other autographed collectables.