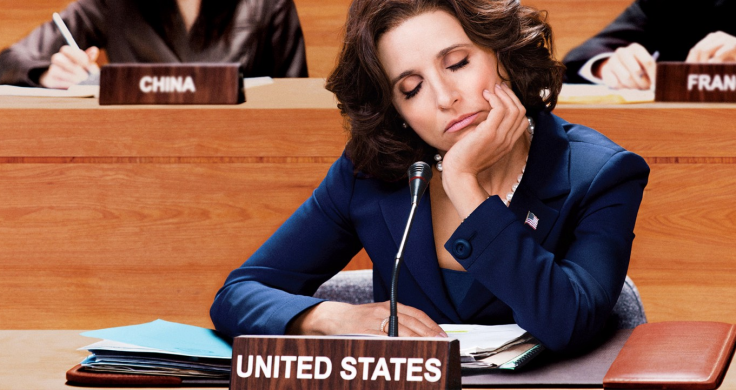 One of the funniest shows on television is set to come to an end soon. HBO announced on 6 September that its two-time Emmy-winning political comedy Veep will bring down the curtain after season 7 which premieres in 2018.
Lead star and executive producer Julia Louis-Dreyfus broke the news to The Hollywood Reporter, explaining that the hit series had met its natural end. "It became clear that this season should be the last season," the actress said. "We don't want to repeat ourselves or wear out our welcome. The story has a finality to it that feels end-of-series."
For Louis-Drefus, who plays Selina Meyer — a vice president- turned president- turned ex-president, this has been a "role of a lifetime". She won five consecutive Emmys for outstanding lead actress for Veep and has been nominated in the category yet again this year.
"I struggled with it," she said. "And then it just hit me. It's hard to say goodbye to such a good thing. We struggled with this at Seinfeld as well.
"I'm not kidding — I really feel this is my baby and I don't want to mess it up. I would hate to end on a less-than note. That would make me nuts."
The cast will soon begin filming for season 7 which will see Meyer and her team considering a run for president again.
Fans were obviously not happy about the news but once again the 56-year-old assured that is was not yet time to mourn the end. "It's true BUT don't despair cuz we still have a whole season 7 to write and film," she tweeted.
With the 2017 Primetime Emmy Awards around the corner (17 September) the Veep team is hopeful of taking home a few more awards. The show has already earned 17 nominations including those for outstanding comedy series, outstanding lead actress along with two nominations for outstanding supporting actor (Tony Hale, Matt Walsh).
It has also been selected for outstanding supporting actress in a comedy series (Anna Chlumsky), outstanding guest actor in a comedy series (Hugh Laurie), three nominations for outstanding directing for a comedy deries (David Mandel, Morgan Sackett, Dale Stern) and two for outstanding writing for a comedy series (Billy Kimball, David Mandel).