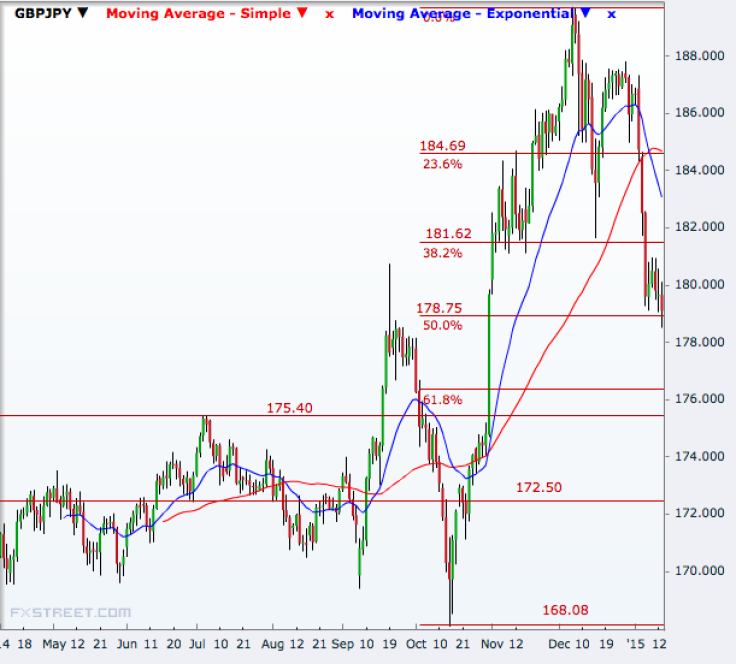 The British pound fell sharply across the board on Tuesday as inflation numbers for the UK surprised on the downside, further deepening the UK-US monetary policy divergence.
Pound dropped to a 70-day low against the yen and moved closer to a retest of the recent 17-month low against the dollar following the December CPI and PPI data.
Consumer price inflation fell to 0.5% in December from 1% in the previous month, while analysts were expecting 0.7%. The core rate rose to 1.3% from 1.2% but was below market expectations of 1.4%.
In PPI, input price deflation deepened to -10.7% from -8.2%, while output deflation worsened to -0.8% from -0.6%, data showed on Tuesday.
GBP/USD dropped to 1.5077 after the data from 1.5120 prior, moving closer to the 8 January trough of 1.5034, which was its lowest since July 2013.
The 2013 low of 1.4813 is just 221 pips away from there, a break of which will weaken the UK currency to a 4-1/2-year low.
GBP/JPY dropped to 178.48, its lowest since late October, down 0.67% on the day. The cross has fallen more than 6% over the past one month.
EUR/GBP rose to 0.7830 from 0.7810 following the UK data on Tuesday.
Data earlier in the day from eurozone were mixed with German wholesale price deflation worsening while Italian industrial output falling less than expected at the end of 2104.