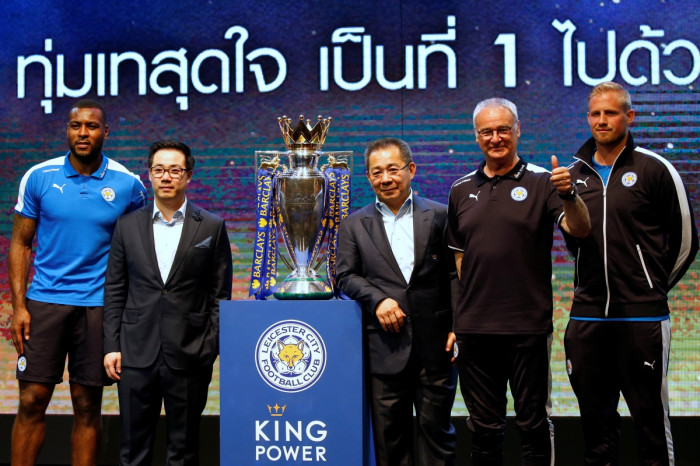 Unlikely Premier League champions Leicester City arrived in Thailand, the home of their billionaire owner Vichai Srivaddhanaprabha, to a heroes' welcome on Thursday (18 May), less than 48 hours after parading the trophy around the East Midlands city.
Looking jet-lagged and slightly overwhelmed, members of the first team - plus Manager of The Year, Claudio Ranieri - met fans at the airport before being honoured in a lavish ceremony at the King Power complex in the Thai capital, Bangkok.
Despite the absence of star players Jamie Vardy, Danny Drinkwater and Riyad Mahrez - all of whom have bee called up for international duty - there was a large turnout at the Bangkok International Airport as the team touched down following an overnight flight. Thanks to Vichai's influence and marketing power in the country, the "Siamese Foxes" had already started attracting Thai support - in a part of the world usually dominated by big sides like Manchester United, Liverpool and Barcelona - even before their extraordinary 5,000-1 Premier League win.
On Thursday (18 May) the team will be driven around Thailand's capital, Bangkok, in an open-top bus, and will also visit Wat Traimit temple and King Bhumibol Adulyadej's Grand palace. The 88-year-old monarch is not expected to meet the team as he is too unwell.
The team will also head off to a private island, as part of the continuing celebrations. However they have been warned there must be no repeat of the 2015 scandal, in which they visited Thailand under very different circumstances.
In 2015, Leicester narrowly avoided relegation and were rewarded with a Thailand trip for doing so. But during the "good will" trip — a rather more low-key affair than this year — three players were embroiled in a scandal when they filmed themselves with prostitutes and were heard using racist language. The players — including James Pearson, the son of then-manager Neil — were sacked, with Pearson senior exiting the club a few weeks later.
Aiyawatt Srivaddhanaprabha, who - as well as being Vichai's son - is Leicester City vice-chairman, warned the players to behave and enjoy the trip this time. "I want them to see the Thai people, how welcome they are," said Aiyawatt, who was quoted in The Telegraph.
"They are massive now and they want to say thank you to the Thai fans. The players need privacy as well but I've talked to them and they know they need to treat everything well. You are popular, that is great, and people come to see you because they admire you and they want to talk to you. They will talk to you like you're their son. So be proud and enjoy."