With the dust now settled on the 2016-17 Premier League campaign, IBTimes UK's sport writers can now begin dishing out the awards highlighting the best and the worst of the English top flight this season. It's been a vintage season for goal of the season contenders; here are our picks.
Nick Howson: Olivier Giroud vs Crystal Palace
Against the backdrop of his bronze tan, sapphire blue eyes and perfect teeth, Olivier Giroud finally has a goal to match his obvious beauty. While Henrikh Mkhitaryan's almost identical effort was a glance into the corner, the Frenchman's scorpion kick was altogether more deliberate and that it came at the end of a flowing Arsenal move gives it exceptional quality which ensures it stands alone.
George Flood: Emre Can vs Watford
I may well be guilty of a touch of recency bias here given that it was only scored at the beginning of May, but Can's breathtaking bicycle kick against Watford was a thing of real beauty and physical artistry. Latching onto a cross from Lucas Leiva in first-half stoppage-time, the German midfielder lit up an otherwise tedious affair at Vicarage Road and secured an important three points in the hunt for Champions League qualification with a feat of acrobatics that most would have thought completely beyond him.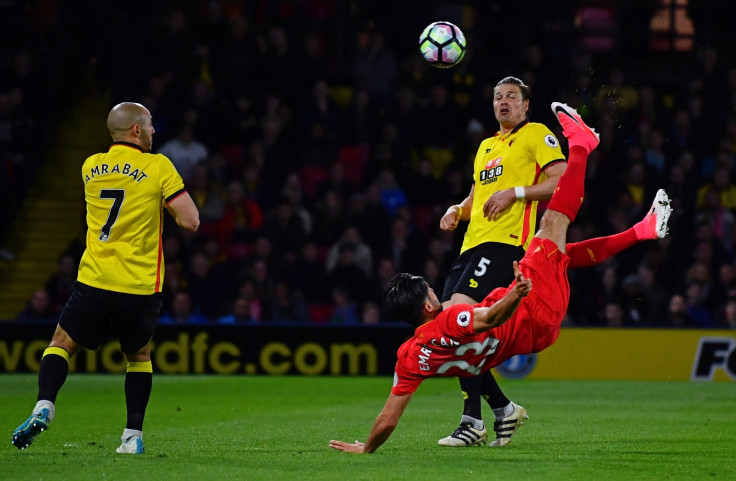 Tony Mogan: Andy Carroll vs Crystal Palace
After Henrikh Mkhitaryan and Olivier Giroud teed up a battle of the scorpion kicks to decide the goal of the season, Carroll smashed both arguments out of the park a few weeks later. Hanging five feet in the air and from 13 yards out, the towering centre forward, known for not being the most graceful player to ever take to the field, found the most perfect scissor kick you've ever laid eyes on,
In typical Andy Carroll fashion, his season-defining moment resulted in a spot of whiplash, according to his manager Slaven Bilic, leaving him a doubt for a match against Middlesbrough the following week.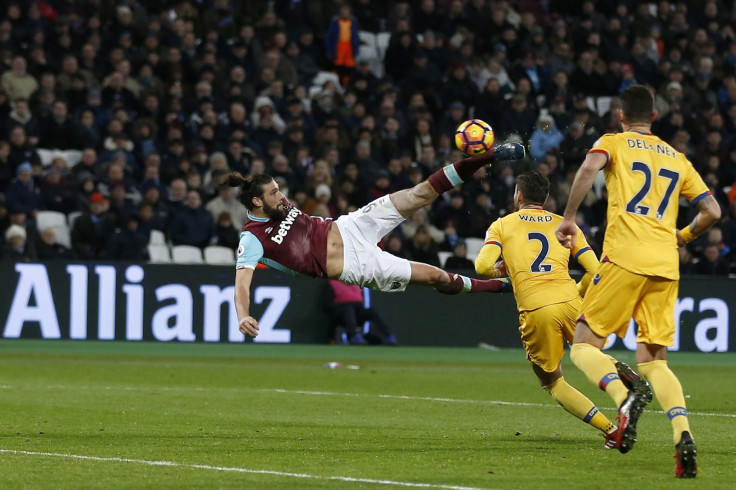 Eduardo Fernandez-Abascal: Emre Can vs Watford
Emre Can's bicycle kick against Watford. It came in first-half injury time and gave Liverpool three crucial points to get into the top four.
Rhod Cannon: Tom Davies vs Manchester City
A real 'coming of age' moment for the 18-year-old. He drove at the City backline, danced past the questionable efforts of Yaya Toure and Gael Clichy before picking himself off the canvas after being flattened by former Everton golden boy John Stones to delicately chip the ball over the ever-reliable Claudio Bravo.
Battle-hardened Evertonians described it as the best moment they have witnessed at Goodison Park in 50 years, but Davies will hope it is only the sparkling beginning of a career littered with more than just spellbinding goals.