Newcastle 0-2 Manchester City
Stoke City 3-5 Liverpool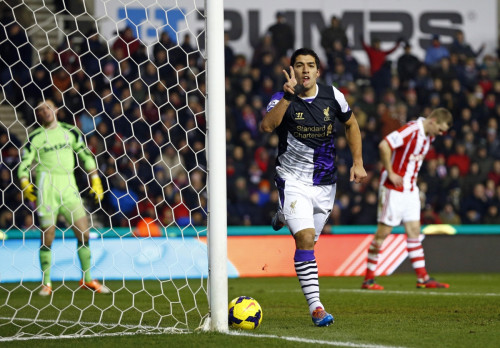 18:10: Two fixtures offered pretty much everthing this afternoon and that's us well and truly satisfied. Thanks for reading and join us next weekend.
18:06: Well, that was fun. A breathtaking game comes to a close with eight goals on the score sheet, two of those from Luis Suarez. Liverpool's win sees them climb back into fourth while Stoke remain 12th, just four points off the relegation zone.
FULL TIME - Stoke City 3-5 Liverpool
18:03: Still time for more action! Stoke whip in an excellent corner kick and Gerrard nearly directs a bullet header into his own net, but a brilliant reaction save from Mignolet keeps it out.
18:00: Stoke hit the post at one end before Liverpool march up the other end and nearly add to their lead. Hat trick hunting Suarez fires on goal from a tight angle with Sturridge free, but Butland makes a great save. Four minutes of extra time added.
17:57: Liverpool have their two goal lead back! Rodgers' side pick up possession through Sterling who finds Suarez who immediately looks for his strike partner. He finds him at the near post with a lofted pass and Jack Butland makes a magnificent save to keep out Sturridge's first effort, but can't do anything about the follow up which is slammed into the back of the net. Phenomenal conclusion here.
Goal! Stoke 3-5 Liverpool (Daniel Sturridge, 86)
17:55: Stoke pull one back, moments after Mignolet makes a great save to deny a Walters header, Arnautovic plays a great ball in from the left across goal where Walters has galloped in to slide it past the Liverpool 'keeper. Is there another come back on?
Goal! Stoke 3-4 Liverpool (Jonathan Walters, 83)
17:53: Charlie Adam swings in a terrible free kick that sails out of play, much to the frustration of Mark Hughes. Obviously ignoring his wonderfully hit goal, Adam's delivery has been wretched this afternoon.
17:52: Stephen Ireland comes onto replace Charles Nzonzi.
17:48: A hopeful ball lumped into the Liverpool area forces Kolo Toure to nod out of play with Walters on the scene. The resulting corner comes to nothing and Liverpool nearly launch another counter when Arnautovic's attempted volley goes awfully wrong.
17:45: Sterling feints, stops and feints again on the right and hits a hopeful ball across goal that clatters the near post. Butland looked to have it covered anyway.
17:41: Suarez scores again! Stoke have thrown many of their players forward and it was too many on this occasion. The ball is hit toward the Stoke goal and Daniel Sturridge cuts in from the left taking three defenders with him before playing an excellent reverse pass into the path of Suarez who has cropped up inside the left hand side of the box. The Uruguayan curls it beautifully into the bottom right hand corner to score his 22nd of the season.
Goal! Stoke City 2-4 Liverpool (Luis Suarez, 69)
17:39: Nzonzi has the chance to turn and shoot in the box but isn't really able to get hold of his shot under pressure from a Liverpoold defender. More pressure from Stoke now.
17:37: Suarez threads a great ball out to left where Cissokho has run into space but his cross bobbles into box. Sterling is there on the end of it but his effort is weak, hit straight at Butland.
17:34: Adam reminds us all of the other side of the game as he crashes through Sterling, but somehow doesn't get a card. Daniel Sturridge is coming on to replace Philippe Coutinho.
17:31: Having picked up a yellow card his challenge ion Charlie Adam that led to the free kick on the edge of the area, Cissokho is having a bit more trouble on left this half with Stoke making more of the space on that flank.
17:27: Shawcross picks up a yellow card for throwing himself into the path of Suarez, who was threatening to dance his way through the Stoke defence.
17:23: Stoke are calling for a penalty themselves minutes later but Charlie Adam was brought down on the edge of the area rather than inside it. Stoke opt to play a short ball across goal into the path of Arnautovic whose effort is blocked. Stoke fans scream for hand ball, as does Arnautovic, but the referee isn't interested.
17:20: After a bright start to the half Stoke shoot themselves in the foot again. Marc Wilson's lacklustre clearance is charged down by Raheem Sterling who charges on towards goal. Wilson does well to keep up the with the winger but makes the slightest contact to bring him tumbling down in the box. Gerrard steps up and confidently slides the ball into the bottom right hand corner.
Goal! Stoke 2-3 Liverpool (Steven Gerrard, 50)
PENALTY - LIVERPOOL
17:14: And we are back underway.
17:00: The referee has blown for half time and what an exhilarating first 45 that was. Liverpool's two goal lead has been chalked off thanks to goals from former players Peter Crouch and Charlie Adam in the final ten minutes in a half that hasn't been overloaded with quality but has been brimming with entertainment. More of the same, please.
HALF TIME - Stoke City 2-2 Liverpool
16:58: Two former Liverpool players have struck to change the landscape of this game. A minute of injury time left in this half, is there time for anything else?
16:55: Stoke have equalised! The ball breaks to Charlie Adam in the final third and with Martin Skrtel standing off, fires a vicious effort from 25 yards straight past a despairing Mignolet and into the back of the net. Stunning strike.
Goal! Stoke 2-2 Liverpool (Charlie Adam, 43)
16:52: Liverpool have the chance to restore their two goal lead straight away. Suarez picks Coutinho out in the box with an excellent lofted pass but the Brazilian's first time effort is blocked by Butland. It rebounds back into Coutinho's path but Shawcross is there first to make a vital clearance.
16:50: Stoke are back in it! Arnautovic, who had until this point offered nothing on the left for Stoke, cuts back in on his right foot and whips an excellent ball into the box. Crouch meets it with wonderfully directed header to the corner of the net.
Goal! Stoke 1-2 Liverpool (Peter Crouch, 38)
16:45: That was Suarez's 21 goal in 16 appearances this season. Not bad.
16:42: Suarez makes it two and Stoke only have themselves to blame. Liverpool hoof a long ball up that Suarez looks to be chasing to no avail with Shawcross first to the ball. The Uruguayan harries the Stoke defender into letting the ball slip by him and Suarez strokes the ball underneath Butland. Terrible defending from Stoke.
Goal! Stoke City 0-2 Liverpool (Luis Suarez, 30)
16:40: And... it;s an awful effort from Suarez, dragged wide along the turf and out for a goal kick.
16:39: Liverpool march straight up the end as Henderson swings a ball into the box with Suarez lurking. Butland rushes out his goal and does well to punch the ball out of danger. Only for the time being though, as Sterling picks the ball up and is fouled just outside the area. Suarez is standing over it.
16:37: Another corner for Stoke and Crouch is close to getting his head on it but Toure gets there a second earlier.
16:35: More pressure from the home side comes to nothing. Some good footwork from Crouch gets his side going before they earn a corner for themselves. Charlie Adam assumes responsibility for it but it rebounds in the six yard area before being shipped back out to the former Liverpool midfielder. His next attempt to get the ball into the box is terrible, however.
16:31: Stoke pressing in the attack but Liverpool a constant threat on the counter. Raheem Sterling does excellently to take the ball down in the centre circle and sets off down the right flank with Suarez and Coutinho sprinting ahead of him. Sterling cuts inside and finds the Brazilian with a clever ball, but his effort to curl it into the top corner flies over the bar.
16:28: Walters is in the wars again. The Republic of Ireland international jumps for the ball alongside Lucas, knocking the Brazilian out of his path but Gerrard leaps across and lands on the Stoke striker having won the ball.
16:25: Jonathan Walters is also down for Stoke after a heavy landing, but after a few minutes he's up and looks likely to continue here.
16:23: Toure and Crouch collide in the air and the Stoke striker looks to have come off worse. His side are awarded a free kick that Adam floats into the box but it bypasses everyone on its way into Mignolet's arms.
16:20: Stoke deflated in the aftermath of that goal, standing off Liverpool as their intricately work the ball around the box.
16:16: Liverpool take the lead thanks to a huge slice of luck in the opening four minutes! The ball falls to Aly Cissokho 30 yards from goal and the Frenchman opts to take it for himself. It's a truly rubbish effort that looks to be heading for the corner flag, but it takes a huge deflection of Shawcross to direct the ball into the left hand corner of the net with Jack Butland unable to do as thing about it.
Goal! Stoke City 0-1 Liverpool (Ryan Shawcross OG)
16:14: Stoke force the first corner of the game which Gerrard is forced to clear out for another. This time, Charlie Adam directs his second effort straight into the side of the net.
16:10: And we are underway at the Britannia Stadium, Liverpool decked in their god-awful purple, navy and white number.
16:05: After that exhilarating game at St James' Park, we have Liverpool's clash with Stoke City to look forward to now. Both sides are making their way out onto the pitch with Steven Gerrard back in the starting XI for Brendan Rodgers. Glen Johnson has also recovered from an ankle injury and Daniel Sturridge takes a place on the bench following his two month lay off.
16:02: The ref blows the whistle to a chorus of boos around St James' Park. City have taken the three points they needed to move to the top of the Premier League but the game will be remembered for the poor decision to disallow Tiote's first half rocket.
The controversy sparked an excellent start to the second half for the home side but Alan Pardew's side were unable to find the back of the net. Rather cruelly a late goal from Negredo with most of the Newcastle XI at the other end was the last action of the game.
FULL TIME - Newcastle United 0-2 Manchester City
16:00: City catch Newcastle on the break to seal three points! With everyone forward for the home side Negredo is picked out and is one on one with Krul. The Dutchman saves his first effort but the rebound falls nicely for the City striker who strikes the ball into the back of the net. City will go top.
Goal! Newcastle 0-2 Manchester City (Alvaro Negredo, 90+4)
15:59: Kolarov brilliantly slides across to bravely block an effort from Taylor, who doesn't seem to fancy heading back to defend anymore.
15:57: Another iffy decision there, Steven Taylor judged to be offside when in fact it was Cisse ahead of him - who wasn't interfering with play - who was offside. The defender's angled effort was nowhere near close to troubling Hart, however.
15:55: Seven minutes of extra time added at St James' Park.
TEAM NEWS - Stoke City v Liverpool
Stoke: Butland, Cameron, Shawcross, Wilson, Pieters, Nzonzi, Whelan, Walters, Adam, Arnautovic, Crouch
Subs: Muniesa, Pennant, Palacios, Etherington, Sorensen, Shotton, Ireland.
Liverpool: Mignolet, Johnson, Skrtel, Toure, Cissokho, Gerrard, Lucas, Henderson, Sterling, Suarez, Coutinho
Subs: Alberto, Aspas, Moses, Sturridge, Ibe, Kelly, Ward.
15:52: Newcastle living dangerously as Silva bursts down the right flank and squares a perfect ball for Negredo in the six yard area. The striker doesn't get the best connection on the ball and it's cleared off the line by Taylor!
15:50: After a brief pause where a pitch invader is comically chased around the pitch, City nearly double their lead. Kompany's shot is blocked but Fernandinho reacts quickest but heads onto the bar.
15:47: That break in play seems to have taken the sting out of Newcastle a bit. City have regained control of this game with the home side looking a bit jaded after a breathless start to the half.
15:45: Taylor makes an excellent block to keep Navas' cross out and Krul is out to confidently collect the resulting corner. Haidara has come on for Yanga-Mbiwa while Ben Arfa replaces Gouffran.
15:43: Medics took their time getting Nasri off the pitch suggesting the Frenchman may have suffered some ligament damage. James Milner is on to replace him. Earlier Cisse was brought on for Anita and Hatem Ben Arfa looks likely to join him in the next few minutes.
15:40: Nasri steals possession from Yanga Mbiwa and threatens to break but the Newcastle defender takes him down and takes the inevitable booking. Nasri has stayed down and a stretcher has been brought on the pitch.
15:38: Navas lifts a shot straight into the grateful arms of Krul. At the other end the combination of Sissoko, Remy and Anita bring the ball forward with some slick passing before David Santon crashes the party and skies his effort some way over the cross bar.
15:34: Great save by Hart! Remy wriggles free after Kompany and Zabaleta run into each other and hits a powerful effort low on goal but it is blocked by Hart's outstretched leg.
15:32: Cabaye is late to another challenge and Mike Jones has done Newcastle a big favour by not reaching for his pocket. The French midfielder is pulling the strings for his side, but Pardew may have to think about taking him off to keep 11 men on the pitch.
15:30: Cabaye very fortunate lucky to not be shown a second yellow card after clattering into Jesus Navas near the touchline. Moments before that Negredo released Navas down towards the byline but his attempt to cut the ball back was snuffed out.
15:26: Before that free kick, a struggling Yaya Toure was taken off, replaced by Javi Garcia.
15:25: Cabaye fires for goal and Hart punches clear, but the falls into the path of Tiote? What better way to make up for the injustice of his disallowed goal by repeating the trick in the second half? Would have been nice, but this time the powerful midfielder slices his effort wide.
15:24: Newcastle's corner comes to nothing but David Santon wins a free kick on the edge of the area. Replays suggest there was no contact in Kolarov's challenge, but Newcastle don't mind.
15:22: Newcasltle keep the pressure on. A cross is cleared and falls to Tiote who ignores shouts to belt it on goal and squares it Cabaye, who does exactly that. His strike 30 yards from goal is well hit and draws another good save from Joe Hart.
15:19: Williamson hauls down Silva after the Spaniard dances passed him near the corner flag. It's as cynical as you can get, but the Newcastle defender avoids a booking. His side are nearly punished however as Negredo connects with a header from the resulting free kick and draws an excellent save out of Tim Krul who keeps his side in the game.
15:17: Dzeko off for Man City, replaced by Jesus Navas.
15:16: Quick reminder that Mike Jones is no stranger to controversy. He was the centre of the beach ball fiasco at the Stadium of Light a couple of years ago, a blunder that saw him dropped for Premier League games.
15:15: Remy makes a great run down the left channel and is found by Sissoko. With just the goal ahead of him, the on loan striker should wallop it with his left but opts to cut inside to get the ball onto his favoured right, but in doing so gives Kompany the chance to get back and snuff out the danger.
15:13: Tiote joins a growing list of names in the referee's book after clipping the heels of Yaya Toure.
15:11: Anita gets the first shot of the second half away after picking up a loose City pass on the edge of the area. Boos continue to tumble down from St James' Park with chants of 'Cheat! Cheat! Cheat!' greeting Mike Jones at every opportunity.
15:08: And we are back underway at St James' Park. Another quiet half maybe?
14:56: Well, that first half produces one or two talking points, I suppose. Edin Dzeko's opener had some fearing that Man City were on their way to another rout, but Newcastle should have been level after Tiote's magnificent half volley from 30 yards out. flew past Joe Hart into the top corner. It wasn't to be, however, as after a minute of wild celebrations, Mike Jones chalked it off. It was judged that Yoann Gouffran, one of three Newcastle players in an offside position when Tiote struck, was either blocking Hart's field of vision or had the ball take a deflection off him, none of which appeared to be the case.
Newcastle have been hugely unlucky with that decision and there are one or two miffed members of the Newcastle contingent around the stadium and on the touchline. A breathless first half of football; more of the same, please.
14:52: After exchanging heated words with Manuel Pellegrini, Pardew turns his attention to pantomime villain of the afternoon, the referee. "The linesman was right, you were wrong," the Newcastle boss bellows at Mike Jones as he leads the two sides off at half time.
HALF TIME - Newcastle United 0-1 Manchester City
14:50: Newcastle have calmed down a bit and have begun to dominate possession. Only an excellent sliding tackle from Demichelis denies Remy the chance to break through one on one again. Zabaleta also picks up a yellow card.
14:46: It would seem the decision to disallow the goal may be one based on the idea that the three offside Newcastle players were interfering with Joe Hart's line of sight. It did seem that was what Joe Hart was questioning about after Tiote's effort flew past him.
14:44: Boos rain down from St James' Park and Newcastle's frustration with the decision is evident as Sissoko and Cabaye pick up yellow cards in the aftermath of that decision. Fernandinho picks one up for himself soon after, cueing ironic cheers from the baying Newcastle crowd.
14:40: Hugely controversial decision at St James' Park. Having piled on the pressure Newcastle swing in their second consecutive corner kick which falls to Tiote on the edge of the box and the midfielder hits a vicious half volley from the edge of the penalty area that flies into the top corner. The Newcastle players mob the goalscorer but referee Mike Jones, after consulting his assistant, rules it offside. Replays show two Newcastle players were in offside positions as the ball hit the back of the net, but the shot doesn't appear to have taken a deflection of any of them. Very, very harsh on Newcastle.
DISALLOWED GOAL - Tiote (Newcastle United)
14:37: Kolarov again troubles Newcastle down the left flank as he swings a tempting low cross into the box which has to be hoofed away by Yanga Mbiwa.
14:34: Newcastle's high defensive line nearly sees Negredo break in behind them, but Tim Krul is quickly off his line to mop up. The Spaniard was ruled offside anyway, somewhat harshly, replays suggest.
14:30: Loic Remy thinks he has been put through one on one with Hart after City give away possession in the middle of the park but he is rightfully ruled offside. The on loan striker sees his effort easily saved by Hart anyway, just to rub it in a bit.
14:28: Newcastle playing some neat football themselves with a series of net triangles just inside the opposition half but are yet to really open City up.
14:25: Yanga-Mbiwa is penalised for a foul throw in the City half. The most ludicrous of all offences in top flight football. Or at any level of football, really.
14:23: Newcastle's centre backs nearly combine in the City box as Williamson gets his head to a lofted free kick and attempts to direct it into the path of Taylor. The defender is ruled offside, but his effort ro play it back across is cleared.
14:20: An excellently worked short corner eventually sees the ball clipped into Alvaro Negredo who is unmarked in the box, The Spaniard times his leap well but gets too much on it and his effort bounces off the roof of the net.
14:18: Yanga Mbiwa does enough to shepherd the ball out for a corner with Kolarov looking to replicate the game's opening goal but it's cleared for a corner which eventually comes to nothing.
14:17: And with that goal, City have now scored as many as they did last campaign with 18 games left to go.
14:13: Manchester City take the lead! Lethal stuff from the away side as Silva finds Kolarov with an exquisite ball that tears the Newcastle defence in half. The full back powers past Gouffran on the left flank and slides the ball across goal for a grateful Dzeko who slams the ball into the roof of the
Goal! Newcastle 0-1 Manchester City (Edin Dzeko, 7)
14:10: Kolarov and Nasri threaten to spring the Newcastle defence but the home side regain possession and launch a swift counter attack through Sissoko. The Frenchman tries to find Remy with a pass but it's blocked before he sends the rebound flying harmlessly over the bar.
14:07: Bright start in the opening minutes as Silva tries to find space down the right but a good tackle from Yanga-Mbiwa sets up a Newcastle attack. The defender plays a neat one two with Sissoko on the right flank but his return pass is over hit. Good tempo with crisp passing from both sides to start us off.
14:05: And we are underway at St James' Park.
14:00: Both sides are now in the tunnel with kick off less than five minutes away.
13:51: After being hammered by City on the opening day of the season, Newcastle have performed remarkably well against other sides battling for a top four finish. Alan Pardew's side have travelled to Old Trafford and White Hart Lane and come away with all three points, beat Chelsea at St James' Park and held Liverpool to a draw in the first half of the season.
13:45: While a win for Man City will lift them to the top of the league, Newcastle will remain eighth today no matter what happens with Manchester United just out of their reach on 37 points compared to their 33.
13:38: After his midweek hat-trick, Negredo continues up front alongside Edin Dzeko. For Newcastle, Steven Taylor returns to the starting XI for the first time since August.
LINE UPS
Newcastle: Krul, Santon, Steven Taylor, Williamson, Yanga-Mbiwa, Anita, Tiote, Cabaye, Sissoko, Remy, Gouffran
Subs: Cisse, Ben Arfa, Gosling, Haidara, Elliot, Marveaux, Sammy AmeobI
Man City: Hart, Zabaleta, Kompany, Demichelis, Kolarov, Nasri, Fernandinho, Toure, Silva, Negredo, Dzeko
Subs: Richards, Lescott, Milner, Javi Garcia, Jesus Navas, Clichy, Pantilimon
13:34: Manchester City have scored 57 goals scored in their 20 Premier League games this season, four of which came on the opening day of the season against Newcastle in August at the Etihad Stadium. A performance like that will see them go top of the table, even if it just for a day.
13:30: Good afternoon and welcome to IB Times UK's LIVE coverage of thia afternoon's Premier League action. After Chelsea's win over Hull City lifted them to the top of the Premier League Manchester City can reclaim top spot for themselves should they take three points away from their visit to Manchester City.
Later on, Liverpool visit Stoke City, where a win will see them leapfrog both Tottenham and Everton back into fourth place.