Full time: Southampton 2-3 Tottenham Hotspur

Full time: Swansea City 1-2 Everton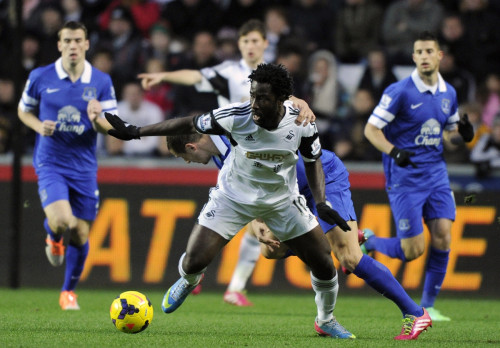 17:56: A much improved second half and in the end Ross Barkley's terrific free-kick saves the day for Everton. Full-backs Seamus Coleman and Dwight Tiendalli had shared strikes of varying qualify before Barkley struck six minutes from time with an outstanding free-kick. His World Cup challenge will likely only be strengtherned.

That's about all we've got time for on his Sunday afternoon in the Premier League. Two enthralling games in the end and a nice little pre-curser to Arsenal v Chelsea on Monday night. Full coverage of that tomorrow night and until then, goodbye.
Full time: Swansea City 1-2 Everton

17:42: A goal fit to win any game. Everton win a free-kick 20 yards out and Ross Barkley is over it, and with the guile of David Beckham curls a beauty beyond the reach of Tremmel. Tremendous strike and potentially the winner.

Goal: Swansea City 1-2 Everton (Ross Barkley)

17:30: Would suggest that Dwight Tiendalli will be needing as favour from the dubious goals panel if he wants to claim that goal. The deflection off Oviedo is signficant and totally wrong foots Tim Howard after the original effort was off target.

17:28: Swansea level with a goal out of nothing. A cross from the left sees Everton defender queuing up to clear the ball but they allow Tiendalli steals in and via a deflection off Bryan Oviedo, finds the corner.

Goal: Swansea City 1-1 Everton (Dwight Tiendalli)

17:24: It had been coming and Everton take the lead through a thunderous strike from Seamus Coleman. The full-back takes aim from 25 yards and he beats Tremmel at his near post. Stunning strike and the visitors lead.

Goal: Swansea City 0-1 Everton (Seamus Coleman)

17:21: No doubt this one is warming up in south Wales as we enter the final 30 minutes. Both sides look capable of winning it and Ross Barkley looks on a solo mission to grab the three points for Everton, his dirivng run and shot being tipped onto the bar by Tremmel.
17:13: Goodness me Everton should be ahead. Swansea are caught having overcommitted to an attack and Pienaar feeds Barkley but the England midfielder gets his feet in a tangle before slipping over and the chance is gone. First real chance of the first half.

17:02: Second half underway at the Liberty. No changes.

16:47: This is normally the point in which I wrap up the first half. Err, not much to comment on truth be told, both sides cancelling each other out. Sorry.
Half time: Swansea City 0-0 Everton
16:41: For two sides for whom the footballing basics seemingly come so naturally, this is a poor advert for such fundermentals. Neither side have really got going here with chances at a premium. Everton perhaps edging it.

16:24: Well Mirrallas should have scored, if not helped Everton take the lead. Swansea are very slack in possession and the away side have a four on one situation but the Belgian goes alone and Ashley Williams is forced to block his goal-bound effort.

16:22: Nearly mid-way through the first half and we're yet to have a genuine chance for either side. The only shot on target saw Kevin Mirallas denied by Tremmel at the near post, otherwise it's been neat and tidy from both sides.

16:00: Underway at the Liberty Stadium.

15:46: Teams:
Swansea City: Tremmel, Tiendalli, Chico, Williams, Davies, Canas, Shelvey, de Guzman, Routledge, Hernandez, Bony.

Everton: Howard, Coleman, Oviedo, Jagielka, Distin, McCarthy, Barry, Mirallas, Pienaar, Barkley, Lukaku
15:41: Ok so what a way to start the afternoon with a cracker at St Mary's. Attention now turns to the Liberty Stadium where Swansea City host Everton. Teams on the way....

15:35: Emmanuel Adebayor speaking on Sky Sports:
"I have been working very hard. I want to thank all my team-mates, they have been there for me."I am very happy for the new manager. First day he told me to 'get out there and play football, you know how to do it because of the clubs you have played for'.
"All 2013 has been very tough. My brother passed away, it was emotionally difficult. Everything I did today is for him and his son. My father told me to always work hard, and that paid off today."
15:25: What a turn up for the books. Emmanuel Adebayor returns to the Tottenham first team in the Premier League to score twice and down a Southampton side who had originally taken the lead. That's one win in eight now for the Saints. Cracking win for Tim Sherwood, who has certainly strengtherned his case to be the manager on a permanent basis.

Full time: Southampton 2-3 Tottenham Hotspur

15:20: Was that the chance for Southampton? Lloris punches again from a Saints corner and the ball falls to Rickie Lambert who can only volley into the ground and harmlessly over.

15:19: Five added minutes at St Mary's.

15:17: After Lloris punches out the originaly free-kick Tottenham survive as Southampton load the box. The north Londoners looking sweet for the three points here.

15:16: Defoe on for Soldado for Spurs but it is Southampton who need the goals. They do have a free-kick mid-way inside the visitors half though....

15:13: Inside the last 10 minutes and Southampton are having most of the ball but Tottenham look comfortable for the most part. What a win this would be for Tim Sherwood.

14:55: Another chance for Spurs, who look reborn in this second half. Soldado levers Lovren off the ball and gets away int the penalty area but only shoots wide.

14:54: Goodness me what a start to this second half and Tottenham are ahead for a second time. A long throw isn't dealt with and when the ball falls Adebayor's way, he passes it low pass Gazzaniga.

Goal: Southampton 2-3 Tottenham Hotspur (Emmanuel Adebayor)

14:51: Brief technical glitch at IBT HQ but we're back and Southampton are back level against Tottenham. Lallana gets in behind the Tottenham back four and when Lloris comes out he reverses the ball to Rickie Lambert who side foots into an empty net.
Goal: Southampton 2-2 Tottenham Hotspur (Rickie Lambert)