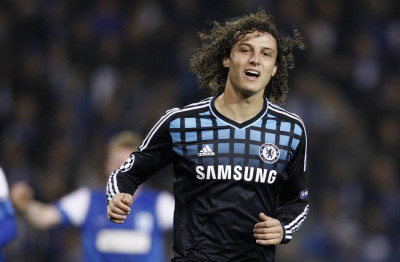 Premier League standings 21 November: Man City, Man Utd, Newcastle, Chelsea, Tottenham, Liverpool, Arsenal, Aston Villa, QPR, West Brom, Norwich, Everton, Swansea, Stoke, Sunderland, Fulham, Wolverhampton, Bolton, Blackburn, Wigan
An eventful weekend of Premier League football was capped off by a remarkable goal by Liverpool fullback Glen Johnson, which compounded Chelsea's shaky start to the season and piled yet more pressure on their manager Andre Villas-Boas. Elsewhere Manchester City maintained their record breaking start to the season by triumphing over the previously unbeaten Newcastle United to make it 11 wins from 12 games played, while defending champions Manchester United continued their resolute response to the Manchester derby debacle with a 1-0 victory over Swansea City. Arsenal talisman Robin Van Persie's brace against Norwich City displayed the kind of clinical finishing, that thus far at least, has made him one of the few credible rivals to David Silva in the stakes to be the division's finest player this season. At the opposite end of the table, Paul Robinson's courageous intervention suggests Blackburn Rovers' Steve Kean still maintains the backing of his players if not their disgruntled fans after their hugely entertaining 3-3 draw with Wigan Athletic. The International Business Times takes a look at Five Premier League players who for one reason or other caught the eye this weekend...
(Chelsea 1-2 Liverpool): David Luiz continues to struggle
The precocious 24-year-old has displayed a defensive naivety throughout his fledgling Chelsea career but alarmingly for Blues' fans the evidently talented Brazilian international is not learning the lessons of previous mistakes. Although the level of criticism directed at the ample haired centre-half in the aftermath of his wayward display against Liverpool has bordered on the vitriolic (Tony Cascarino and Alan Hansen take a bow), Andre Villas-Boas must harbour serious concerns about his suitability to central-defence. Such is the vulnerability of the Brazilian's form this season; the previously imperious John Terry has looked anything but. It's worth noting his relative inexperience in English football and indeed the fact he has on occasion displayed a technical array of attributes that belie his current malaise, but how long can his Portuguese manager persist with Luiz in games of a similar magnitude of the Liverpool one?
(Chelsea 1-2 Liverpool): Charlie Adam's form
Manchester United legend Gary Neville, in his capacity as co-commentator for Sunday's game at Stamford Bridge, gave Glen Johnson the man-of-the-match award in a possible show of favouritism to a fellow right-back. Whilst there is no doubting the individual brilliance of Johnson's goal, he was out shone by his Liverpool teammate Charlie Adam. There is something old school about the former Blackpool captain and Garth Crooks' lavish comparison to Graeme Souness, although premature, is a reflection of his influence on the match and his footballing qualities. The Scotland international was instrumental in Maxi Rodriquez's opener, having harangued Chelsea's Jon Obi Mikel into an error that Petr Cech should be held largely accountable for. The 25-year-old also displayed the other side of his game with some probing passes and one stunning racking cross-field ball, which successfully sent the aforementioned Johnson on his the way to a memorable winner.
(Manchester City 3-1 Newcastle United): Micah Richards for England
Fabio Capello bizarrely overlooked Richards for England's recent friendlies against Spain and Sweden and although it may reflect the recent saturation of a previously arid position for the Three Lions, (with Tottenham's Kyle Walker, Manchester United pair Phil Jones and Chris Smalling, Liverpool's Glen Johnson and Martin Kelly and possibly Arsenal's Carl Jenkinson all amongst the possible candidates) the Manchester City star's claims are increasingly hard to ignore. He was at his marauding and athletic best against Newcastle United on Saturday and his youthful exuberance was rewarded with a well taken goal. Roberto Mancini's side sit at the summit of the Premier League and Richards' form has been an integral part of their attacking potency this season. Whilst Capello appears to have made up his mind on the Eastlands' youngster, the Italian will have to revaluate things on current form.
Norwich 1-2 Arsenal: Rockin' Robin rolls on
The prolific Dutchman is obviously thriving in the mantle of Arsenal's finest and most important player following the summer sales of Cesc Fabregas and Samir Nasri. His qualities have always been abundantly clear but too often undermined by his fragile body, yet his 31 Premier League goals in 29 appearances give credence the idea that he may be finally over his perennial injury hoodoo. He has 13 goals in 12 this season, with ten in his last five, and his brace against Norwich City epitomised a striker at the very peak of his powers. With his contract looming dangerously close its final 12-months, Arsene Wenger must be acutely aware of the club's need to rethink their admirable pay structure in order to retain their hugely influential captain.
Wigan Athletic 3-3 Blackburn: Paul Robinson displays courage beyond the call of duty
Paul Robinson gave new meaning to 'putting your head in where it hurts' when his courageous intervention enabled Blackburn Rovers' to score their late equaliser against fellow strugglers Wigan Athletic. The former England international had been particularly culpable for the Latics' third and potentially decisive goal but rather than dwell on his mistake, he displayed a battling defiance that will be sorely needed if Blackburn are to stave off the threat of relegation. The 32-year-old emerged from his efforts bloodied but unbowed, and his efforts may keep his beleaguered manager in a job for the time being at least.
Premier League Results: Weekend 19 & 20 November
Chelsea 1-2 Liverpool
Norwich City 1-2 Arsenal
Everton 2-1 Wolves
Manchester City 3-1 Newcastle
Stoke City 2-3 QPR
Sunderland 0-0 Fulham
WBA 2-1 Bolton
Wigan Athletic 3-3 Blackburn
Swansea City 0-1 Man Utd